Box office hit 'Captain America' here
View(s):

UK box office hit 'Captain America: The Winter Soldier' featuring the Marvel Comics character Captain America is now being screened at Savoy 3D Cinema Wellawatte.

After dropping to second place previous weekend, the American superhero film reclaimed top spot at the UK box office, with a third-weekend haul of 1.78 million Sterling Pounds. In UK charts the second and third places have been occupied by the recent big releases Noah and Rio 2. In Asia "Captain America: The Winter Soldier" has topped the mainland China box office for the second week in a row, hauling in 42 million US dollars.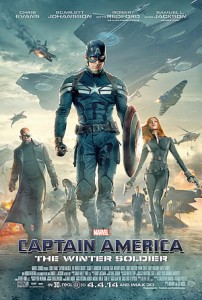 Directed by Anthony and Joe Russo, produced by Marvel Studios and distributed by Walt Disney Studios Motion Pictures, in the film Captain America and the Black Widow join forces to stop a covert enemy that is hiding in Washington, D.C.The film stars Chris Evans, Scarlett Johansson, Sebastian Stan, Anthony Mackie, Cobie Smulders, Frank Grillo, Emily VanCamp, Hayley Atwell, Robert Redford, and Samuel L. Jackson.
After the cataclysmic events in New York with the Avengers, Marvel's "Captain America: The Winter Soldier " finds Steve Rogers, aka Captain America, living quietly in Washington, D.C and trying to adjust to the modern world. But when a S.H.I.E.L.D. colleague comes under attack, Steve becomes embroiled in a web of intrigue that threatens to put the world at risk. Joining forces with the black widow, Captain America struggles to expose the ever-widening conspiracy while fighting off professional assassins sent to silence him at every turn. When the full scope of the villainous plot is revealed, Captain America and the Black Widow enlist the help of a new ally, the Falcon. However, they soon find themselves up against an unexpected and formidable enemy-the Winter Soldier.