Royal scared Isipathana but Lady Luck was not with them
View(s):

The first week of the Schools League Rugby saw both winners and runners-up of last year losing their games. Winners Dharmaraja went down to the B division winners of the previous year S. Thomas' College while runners-up Wesley lost to St. Joseph's who were at the bottom of the league in 2013. Royal did scare Isipathna but luck was not with them as they went down by a solitary point. A match that was expected to ignite, despite the close scores, turned out to be a fizzle. The fiasco of last year possibly encouraged more crowds and the atmosphere was of tension. The game swung like a pendulum this way and that way adding to the tension that prevailed. The Old boys of both schools met a few days before to ensure a good game of rugby that will not be sour due to antics of a few. That was a major win for the game which otherwise did not reach a climax as expected.

Royal who were down to thirteen at a crucial time of the match did well to hold on. The game went to a stage of having uncontested scrums was strange as one has to carry six who can play in the front row. The uncontested scrum comes into play when there is no nominated front row available. Even if all three front row forwards are sent off there still has to be three left in or outside. There is also an exception where the law also allows a substituted player to return. It baffles me as to how this happened or was it that a shrewd coach took advantage in a moment that can create confusion. This can set a trend for others to follow and will take the sting of a Schools A division rugby match if not practiced according to the book.

Pathana of whom much was expected will have to take stock of their performance which was sporadic and or erratic. Having watched three games over the week and seen two more on the social media I wonder whether some have a game plan or if they have that it is not executed properly. Trinity was clinical in their approach and got the better of DS who not only had to deal with the threatening lions but also had to face a plan that was fairly well executed. The Wesley St Joseph's game was replete with poor handling and passes that were close to being suicidal. The tackling was good but the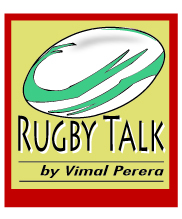 tendency to go high had a price of a penalty. A small but mobile Science College got the better of the bigger St. Anthony's team from Kandy. In a couple of games that I saw the expectation was that size and weight could dominate the game. With all that you have if you still loose scrum ball and or get pushed the big come down easily with a big bang. I am once again tempted to repeat from the ten things you can learn from Caesar "Six inches of point beats two feet of blade." It is not always size that matters but how best you use the equipment.
Speaking of plan and getting the better of your opponents a former S. Thomas' rugby player recounted what his Guru Quinten Israel did. He would always drill on the need to get your opponents back peddling in the first 10 to 15 minutes of the game. That creates pressure on your opponents and changes the mindset which causes disarray. It is not about the physical skills only but being rugby smart and tough. The opportunity was used to attack once in the opponents half as they would have been expecting a kick to space as this was how you got them to back peddle. Quite different to what teams are doing today inside your twenty two and at times closer to your goal line. That is getting your opponents come at you and keeping them closer to attack the in goal. Pick and hit in wrong places while utilising all that you have cannot be a plan for a hot afternoon.
S. Thomas' celebrated their return with a convincing win over Dharmaraja . They look to be a side that can challenge the other teams in the group and get to the last round. In this Group there is a win each for STC and Science while the St. Peter's and Kingswood had a drawn game. In the other Group Trinity, Pathana and Joes have won a game each.
This week we will see schools battling harder than before as losing teams have to register a win if they are to be in contention. It looks as though the new format has put schools games into a more exciting season. A number of yellow cards were thrown in a few games while the schools are expected to introduce citing from this week.
* Vimal Perera is a former Rugby Referee, Coach and Accredited Referees Evaluator IRB