Hapless Lankans fall to Wales
By Naushad Amit in Kowloon, Hong Kong
View(s):
After being booed and jeered, Sri Lanka eventually won the hearts of thousands of rugby fans yesterday despite losing their group games against Kenya, Fiji and Wales at the Cathay Pacific/HSBC Hong Kong Sevens, at the Kowloon Rugby Stadium in Hong Kong.
Sri Lanka suffered two heavy defeats, against Kenya on Friday and against Fiji last morning but made up for these lapses by scoring two tries against Wales, despite losing the game 47-12. Sri Lanka was thrashed by Kenya 41-0 and a night later by Fiji 56-0 before they became one of the least fancied teams of more than 40,000 rugby lovers in Hong Kong. But the two spectacular tries scored against Wales turned their fortunes as the Tuskers finally gave spectators a reason to cheer for them.
Sri Lanka lost all three games in Group 'A', after conceding 144 points, the most conceded by any team and scored just 12. After being pitted at the bottom of the group they are slotted to meet Samoa in the Bowl quarterfinal at 8.15am Sri Lankan time today. They will play one more game before signing off from the competition.
Wales built a 26-0 lead at halftime through two tries from Jason Harries and a try each from Will Thomas and Lee Williams, before Luke Morgan took the eventual winners further away from Sri Lanka with a try soon after the turnaround. But a sudden move by Fazil Marija, who had two disastrous games earlier on, managed to change Sri Lanka's fortunes in the competition. Marija broke through the Wales gates from Sri Lanka's own 22 and raced towards the opposite 22 to hand over the ball to Mithun Hapugoda to touch down under the post. A minute later a similar move made by Srinath Sooriyabandara gave Hapugoda the way to post his second try. After a failed first kick at the post Hapugoda made the conversion to save Sri Lanka's pride with 12 points but the game really belonged to Harries who scored his third try of the game. Ross Jones scored the final try of the game while adding 12 more points through six conversions as Wales sealed the game by 47-12 with a tally of seven tries. Hapugoda was in the starting lineup for the first time for Sri Lanka, who dropped Sandun Herath for the first time. Yoshitha Rajapaksa too was in the starting lineup for the second time but was replaced in the second half by Nigel Ratwatte while Sudarshana Muthuthanthri was brought in for Dinusha Chathuranga.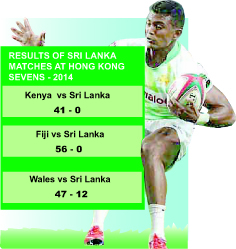 Earlier in the day Sri Lanka played better than their first game against Kenya but suffered a heavy 56-0 defeat against defending champions Fiji. The Tuskers weren't able to get out of their own 22 against the Kenyans but were aggressive against the Fijians from the word go. They almost stunned the arena with a failed try by Srinath Sooriyabandara who knocked on the ball before touchdown.
Sri Lanka were on the attack inside the Fiji territory but the eventual winners capitalized on their opponent's lack of coordination. Joeli Lutumailagi stole away the first try in favour of Fiji as he went on to score a hat-trick later on. Fiji were highly clinical in their performance and scored only three tries in the first half to lead that session 21-0 but it was one-way-traffic after the change of ends for them. Waisea Nacuqu, Donasio Ratubuli, Samu Saqiwa, Vatemo Ravouvou, Samisoni Viriviri and Apisai Domolailai braced down with a try each for Fiji who scored nine tries to record the best winning margin in the tournament so far. Ravouvou made all the conversions.
Sri Lanka made a change in their starting lineup by bringing in Yoshitha Rajapaksa, in place of injured Shenal Dias who was ruled out of the tournament after injuring his ankle. They played superbly in the first four minutes keeping Fiji at bay in their own 22. Sandun Herath was sinbinned shortly prior to halftime when Fiji was leading by 21-0, but strangely Sri Lanka defended well even with six men. Replacements in the second half, Mithun Hapugoda and Sudarshana Muthuthanthri added vigour to Sri Lanka's attack but Fiji were canny in their moves to run down with nine tries. But Sri Lanka's performance cannot be judged by the scores they reached.
Earlier on Friday Kenya smashed Sri Lanka 41-0 to record the highest winning margin of the main competition before it was claimed by Fiji yesterday. Sri Lanka did panic from the moment they took the field for no reason, probably after seeing the number of spectators they were playing in front of. The game against Kenya could be termed as one of the most awful performances by the Tuskers in recent history. The Sri Lankans looked highly excited for no reason and failed to come out of their own 22 throughout the entire first session and trouble doubled up when burly Shenal Dias was seen limping after a fierce maul, forcing him to leave the field in the third minute. By then Kenya had taken the lead through an unconverted try off Andrew Amonde and they went on to add two more unconverted tries off Dennis Ombachi and Collins Injera to lead the halftime by 15-0. After the turnaround Horace Otieno, Biko Adema, Oscar Ayodi and Billy Odhiambo touched down for Kenya as they added more pressure on the Sri Lankans who were totally outplayed.
In the Qualifying Tournament for next year's IRB Sevens World Series, Japan, Russia, Zimbabwe, Tunisia, Uruguay, Italy, Chile and the host country Hong Kong moved to the quarterfinal stage. Japan will take on Tunisia in the first game followed by the games of Russia vs. Uruguay, Zimbabwe vs. Italy and Hong Kong vs. Chile. The invitational Women's Tournament was won by Canada on Friday. They beat France by 24-0 after leading 14-0 at halftime. The tournament ends today.
ResultsCore Tournament: USA beat Samoa 26-12, Canada beat Portugal 35-7, Australia beat Spain 28-14, Kenya beat Sri Lanka 41-0, New Zealand beat Scotland 26-0, England beat Argentina 19-12, South Africa beat France 31-7, Fiji beat Wales 42-7, New Zealand beat Samoa 26-7, Scotland beat USA 15-10, England beat Portugal 21-7, Canada beat Argentina 14-7, South Africa beat Spain 22-14, Australia beat France 26-0, Fiji beat Sri Lanka 56-0, Wales beat Kenya 10-7, Samoa beat Scotland 19-14, Argentina beat Portugal 19-7, France beat Spain 14-10, Wales beat Sri Lanka 47-12.

SWS 2015 Qualifiers: Japan beat Uruguay 24-0, Cook Islands beat Trinidad and Tobago 21-7, Hong Kong beat Tunisia 19-7, Italy beat American Samoa 31-7, Russia beat Chile 19-17, Zimbabwe beat Barbados 49-5, Japan beat Trinidad and Tobago 41-0, Uruguay beat Cook Islands 31-5, Hong Kong beat American Samoa 38-7, Italy beat Tunisia 17-12, Russia beat Barbados 45-10, Zimbabwe beat Chile 19-14, Uruguay beat Trinidad and Tobago 28-5, Tunisia beat American Samoa 14-5, Chile beat Barbados 29-0, Japan beat Cook Islands 26-7, Hong Kong beat Italy 19-0, Zimbabwe beat Russia 14-8.