Love through the ages
View(s):

Semage's latest exhibition, 'Chronicle of Love' will be held from April 4 to 6, at the Lionel Wendt Gallery Colombo 7.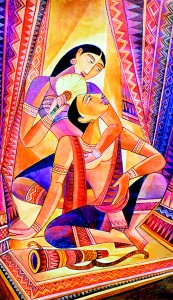 He has had many previous solo exhibitions with titles like "Beyond the Horizon" and "Visa to My World". What was the reason for the choice of present title "Chronicle of Love"? Semage explains: "I have been
depicting the bright and delightful side of life throughout my career. I never painted the gloomy side of life. My themes were the innocence of village people, their feelings, compassion and love etc. When I am elated with happiness, love and joy I get unique pictorial images appearing in my mind. So, my new exhibition is named "Chronicle of Love".
Semage has 'chronicled' how historical and mythological characters in love stories of the ancient world enjoyed the sentiments of love.
One of the stories chronicled thus is the famous love story of Chitra and Gamini.
Semage draws inspiration mainly from Ajanta-Sigiri art, but improvises on this tradition. He has also been able to study Western art during his travels to Italy, Switzerland and Sweden. He familiarized himself with Islamic culture when he held a solo exhibition in Oman. His art has been labelled by some critics as a melting pot since he has singularly managed to absorb many inspirations and emerge with an independent style of his own.