Dettol CSR project: Hygiene awareness
By Tharooshie Mahahewage
View(s):
At a media briefing held recently, Reckitt Benckiser elaborated on their Corporate Social Responsibility Project- "Suwa Setha Mehevara" -a project concerning hygiene awareness among three most important categories of people – schoolchildren, pregnant and new mothers and mid wives. From this year, they will add another category of people into their awareness project- Restaurant and hotel workers in and around the Colombo district. The main aim of the project is to increase the health status of Sri Lanka.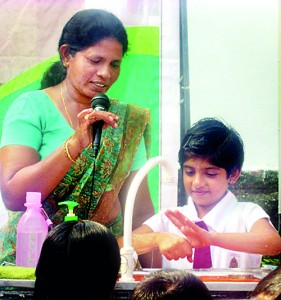 "We launched the project officially last month although we have been working on it for some time now. This project is a result of the amalgamation of our awareness projects conducted for these three categories of people with the help of the Health Ministry as well. We also signed a pledge which we take around the island. We will match the number of signatures we get on the wall with Dettol soap bars which we will be distributing to orphanages," said Senior Brand Manager, Harsha Ratnayake. The Pledge Wall was initiated by the Deputy Health Minister.
The awareness programme conducted for school children is done with the Ministry of Health and the Public Health Inspectors of the area. Having covered 17 schools last year they will be working in 140 Colombo, Galle and Kandy schools targeting over 32,500 students in 2014. The focus is on how to properly wash hands, the importance of good hygiene and the consequences of not practising good health habits. The project revolves around the nine-step hand washing technique introduced by the World Health Organisation (WHO).
"Children are the most susceptible to hygiene-related disorders like skin problems, rashes, infections, wounds, etc. Diarrhoea is the most serious of these diseases. Most of diarrhoeal disease is attributed to unsafe drinking water, inadequate sanitation and poor hygiene. Even when they don't kill, these episodes of diarrhoea can physically and mentally stunt children, affecting them for the rest of their lives," said Mr. Ratnayake.
To educate pregnant and new mothers, Dettol organised maternity clinics along with the Regional MOH and the head mid wife of the area and arranged for medical professionals to speak to pregnant mothers on health and hygiene. The objective was to help new mothers take care of their newborns and keep the baby healthy. 20,000 new mums attended the clinics in 2013 and some 25,000 new mothers under 20 maternity clinic programmes will be educated in 2014 on good post-natal health and hygiene practices.
The midwife awareness programme concentrated more on increasing their knowledge as well as health practices. They were also given a guide book on the procedures related to their profession. Health care professionals trained and updated 3,000 midwives in the Western and Southern Provinces on areas relevant to educating new mothers. It is planned to train 2,000 midwives under this programme in 2014. Two provincial training programmes will be conducted in Wayamba and North Central Provinces and they hope to reach the North Eastern province in 2015.
They are also conducting a programme of refurbishing hospitals. Hospitals in Polonnaruwa, Balapitiya, Peradeniya, Kalubowila, Kurunegala, Kegalle, Tissamaharama, Chilaw, Negambo and the Colombo De Zoysa hospital were upgraded and renovated to meet current standards.
The project for educating hotel/restaurant workers on better hygiene practices will be carried out with the support of the Colombo Municipal Council and its Chief Medical Officer, Dr. Pradeep Kariyawasam in 500 restaurants this year.