Passion for pizza
By Chandani Kirinde
Opened by a pair of 'foodies who love to cook', Rocco's offers a dine-in and delivery service that serves authentic Italian fare
View(s):
"Find something you're passionate about and keep tremendously interested in it," – words of advice by Julia Child, a popular American Chef and author who revolutionised the art of French cooking and whose life story made for a successful Hollywood move "Julie & Julia.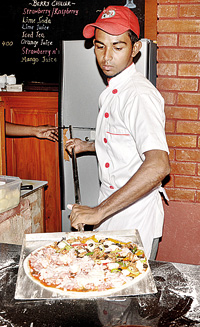 It's a good rule to follow whatever trade you may be engaged in but more so good advice for those passionate about cooking and love to serve the best for their customers. One such duo is Judy Wickramatillake and Krishanthi De Silva who have put their passion for cooking and love for food to start a successful dine-in and delivery service that specialises in pizza, pastas and desserts, all with an authentic Italian flavour.
What started about one and half years ago as a delivery service when the two ladies put their cooking skills to the test led to the starting up of their own restaurant named 'Rocco's' down Nawala Road Rajagiriya. Six months down the line, Judy and Krishanthi love every minute of their food business."We are both foodies and we love to cook. That is how we got started,' said Krishanthi. It was the friendship between the husbands of the two ladies that first brought them together and since then they discovered the many things they have in common.
"First we talked about opening a coffee house but eventually we decided on the Pizza delivery service. Then we started our own restaurant six months ago," Judy said. She said the whole experience of running a restaurant and a delivery service has been fun. "We are here seven days a week and we personally attend to all our customers. We have a very close friendship with most of our regulars and for them too it's a very pleasant and intimate dining experience," she said.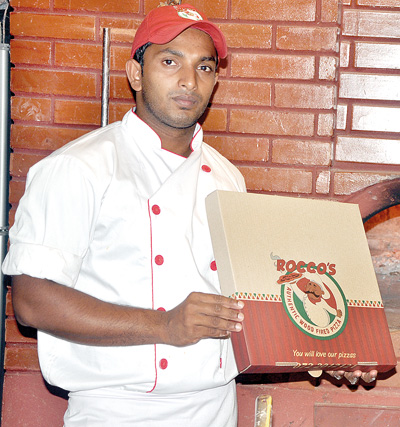 The duo also make sure that the quality of the food they serve is maintained taking great pains to pick the best ingredients for their food. "What we serve our customers is like the same food we would serve visitors to our homes," said Judy. Their specialty is the wood fired clay oven pizza which comes in two sizes, 14 inches and nine inches. Customers can choose from 36 types of topping which range from authentic Italian items to those with a Sri Lankan flavour.
"We us only cinnamon wood to fire the oven and this adds to the flavour of the pizzas," said Krishanthi.While pizzas are their specialty, Rocco's also serves a variety of pastas and risottos, salads, desserts, and a wide range of coffees as well as healthy food such whole wheat pizzas.
Krishanthi and Judy have also opened up the restaurant for private parties on which occasion's customer can book the entire restaurant or use the private dining room upstairs. We have already had an engagement party here as well as other office meetings. We have made special items to order so that our customers get what they want," Krishanthi said.
Assisting Krishanthi and Judy are a set of young and enthusiastic staff members who all join together to make a visit to Rocco's a memorable experience.
Rocco's which is located at 615 A, Nawala Road; Rajagiriya is open Monday to Thursday from 5.00p.m. to 10.00p.m. and on Friday to Sunday from 5.00p.m. to 11.00p.m.