STSD award for Joy Fernando
View(s):

Well known teacher and founder Directress of the International Institute of Music Speech & Drama Mrs. Joy Ferdinando was awarded a certificate "in recognition of her outstanding work in establishing the Sri Lankan Festival and Summer Schools in order to promote speaking of English and the performance of drama".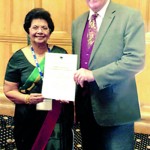 The presentation was made at the centenary AGM of the Society of Teachers of Speech and Drama (STSD) at the Hotel Russel in London by President, STSD, Professor Gervase Phinn on February 15. Ms. Ferdinando was one of the two elected for this honour. She is also honored with the title Hon.FSTSD.
In October 2013 Mrs. Ferdinando receive an award from the British and International Federation of Festivals for Music, Dance and Speech for the voluntary service to the Festival Movement to which the Sri Lanka Festival of Music Dance and Speech is affiliated. In addition she was awarded the title Hon LCM from the London College of Music of the University of West London for her unstinted performances towards Music and Speech as a representative.