A family launches books of topical interest
By Tharooshie Mahahewage
View(s):
It's not often that we hear of two books being launched by the same family on the same day and at the same place. This is what happened last week at the Mahaweli Centre in Colombo when a mother, father and son released their books.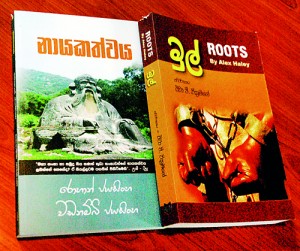 Names like Martin Luther King, John F. Kennedy and Winston Churchill will not be forgotten for one simple reason, among many others- they were great leaders. This is exactly the theme that the son and the father had based their book on. Prof. Rohan Jayasinghe and his father Wadnambi Jayasinghe together launched a book on leadership called "Nayakathwaya".
Introducing the book, one of the guest speakers Prof. Uditha Liyanage touched on the research which the book is based on, the schools of thought and theories of leadership as well as leadership and management. He also spoke about the types of leaders in society and which of their qualities makes us think of them as leaders.
The mother in the family, Eva Wickramage, who happens to be the sister of well known actor Cyril Wickramage, also released her own work- a Sinhala translation of the best-selling novel "Roots" by Alex Hailey under the name "Mul". The book tells
the amazing story of a 16-year-old African boy from Gambia, Kunta Kinte who comes to America as a slave and the hardships he had to face.
"We all have a history which we can either be proud or ashamed of. This is the history of Alex, the original author. It's about how his ancestor came to America. Even though times have changed now to the extent that we have a black president for the USA, the book speaks for all African Americans. I believe that Eva has done immense justice to the original book in her translation," said Prof. Kusuma Karunaratne who introduced the book. She quoted Martin Luther King's famous words- "I have a dream that my four little children will one day live in a nation where they will not be judged by the colour of their skin, but by the content of their character."
Both books address current subjects that are in discussion around the world.