'I am your freedom' – A New Definition for Love
View(s):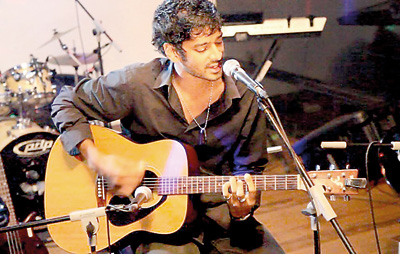 Christo Wijeyakulasuriya is not a new name for Media and the Creative industry. He embarks on a new creative project these days with a new heart –melting lyric on love. His maiden creation "I am Your Freedom' is sung by Vy and featured Italian artiste Lucrezia Losurdo. This is a very first time that an Italian artiste is featured on a original Sri Lankan home grown music video. TV Times had a little chit chat with Christo on this amazing song lyric.
Q : What is the core idea in this lyric?
Christo:  This is at once a love song though a very different philosophy to define love. Many think love will bounded bet been the famous line 'I Love You'. That's not enough! True love has another dimension.
For a long time I was thinking about this theme. Finally I came to like prose. The true lover is the freedom of the beloved. This lyric is entirely on this core idea.
Q: Is this your  real experience?
Christo: Hmmm….yes, there's some one I love….but she doesn't know that love is her freedom….apparently this is a common entanglement in most of youngster's mind.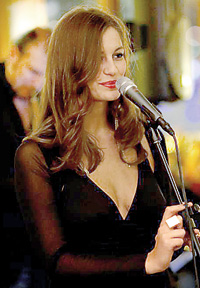 Q: Tell about the Singers and Composer behind this sonic Love story?
Main vocals by Vy and featured by Lucrezia Losurdo and Composed by Vy.
Christo: Vy ventures to understand the physical world through the music he creates. Owing to the idea of mimesis; that art is a reflection of beauty and truth of life that's transformed into a performative medium, he challenges himself to hold up a mirror against some very poignant and emotive personal yet human experiences.
He is a Sri Lankan born vocalist, lyricist and composer all rolled into one, who launched his music career in the year 2013 with the hit single 'Save me'.
Vy's early career was shaped by his involvement in his own band – Breathspace and particularly through the experience of having been invited by the Rolling Stones Magazine to perform at the Hard Rock Café in Pune, India. Since then he has been releasing both covers and original music videos alike and has been featured in both international and local music charts.
The song is featured by an Italian artist truly a musical sensation-Lucrezia Losurdo- she was born in Trieste, in the north-east of Italy in 1990 and she's a singer and a model truly a musical sensation with a broad talent in different genres in music. She performs all around Europe and the World, as in Milan, Rome, London, Seychelles and Sri Lanka.
Q: what is the Record label for this track?
Christo:
We have selected RedNY.LON Entertainment which is a very vibrant upcoming entertainment hub for young Sri lankan artists. The CEO of RedNY.LON- Navin Suriyaarachchi aims to uplift Sri Lankan youth brands into the international arena.
Q: Where can we listen to this new track?
Christo:
You can tune into YES FM or you can download it from itunes or amazon.com
Q: What will be the next exciting projects of you ?
Christo:
Mmmm…. Very soon you will hear about another track mostly in April and I'm working on my Poetry collection. Stay tuned…
Q: How to keep in touch with ?
Christo:
FB … that would be easy …