Every inch a queen
View(s):

It was the climax of their Sri Lankan experience, a whirlwind sightseeing, modelling trip and now time to hit the catwalk. As the 25 finalists of the Femina Miss India 2014 contest prepared for the fashion show at the Cinnamon Grand last Sunday, they were joined by five gorgeous young women who had been through the contest and been crowned with different titles. For the local audience it was a memorable show as the contestants and beauty queens walked the ramp, showing off evening wear and casual wear by local brands and designers- Avirate, Sonali Dharmawardena and Dinesh Chandrasena's Red Banana label.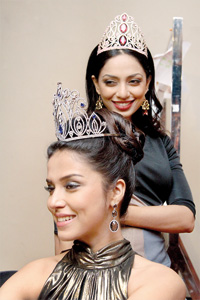 Amidst a torrent of hairspray and make-up, the Sunday Times went backstage to catch up with the current title holders as the team from Ramani Fernando Salons put on the final touches of make-up and the contestants chattered excitedly and snapped 'selfies' in their edgy up-swept hair dos. Miss India World 2013 Navneet Kaur Dhillon put into perspective the glamour and the buzz remarking, "The experience is completely life-changing for any girl in the running for the crown."
For many of these poised and stunning young women, their backgrounds and experience had been a world away from the fashion scene as we discovered. Navneet, originally from Patiala said she was naturally drawn to travel and other cultures thanks to her childhood spent "exploring all of India", having a military man for a father. "We had to be punctual, well dressed and well behaved," she laughs.
Currently continuing her higher education in the media field, Navneet who enjoys horse riding and playing with her pet German-shepherd for stress relief however says it is not all a whirl of glamour as she is still bound by the rules of her university. Even Miss India "must hand in assignments on time and have enough attendance to sit for exams," she says.
Just loving the attention showered on her is Miss India Second Runner-Up Zoya Afroz from Mumbai. "Life is not going to be the same for contestants here on, whether they win or don't," she said. In her case, the reality took some time to register she remembers, "the feeling was just surreal."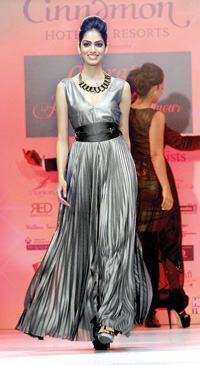 Despite the occasional teasing of her elder brother, or her father's complaints that she doesn't spend enough time at home Zoya now manages to strike a balance between being a student and actress. "I have a wonderful support system that includes my teachers," she says. The busy schedule of an actress doesn't allow her much time in college and the third year commerce student was a 'phantom child' to her teachers before winning her title, yet she was "so surprised to see a huge hoarding outside my college with my picture on it when I won."
Miss India Earth 2013, Sobhita Dhulipala describes herself as "a simple Telungu girl." Being the kind of person who has a plant she calls Susan for a pet and "never put on heels or lipstick before the pageant" Sobhita says her metamorphosis was "a turbulent transition" that proved to be worth it in the end."
Being of South Indian origin she explains how things were a little different for her in the competition. "It is true that South Indians are a little more conservative than North Indians" she admits. Coming from a academically rich background, she says her parents were not against her decision to apply for the competition, just indifferent. A commerce student who graduated with honours, she also has a diploma in taxation and is hoping to complete her masters in Business and Company law. Describing her perfect day as being one where she gets "a long walk on the beach" Sobhita believes she will always be "a simple girl, even if it means not being interested in the things other girls like."
The love of reading and travelling is only outweighed by the love for food in Sobhita's universe and this classically trained dancer claims "I enjoy working out, because if I didn't I would die- it's more of a necessity." Manasi Monghe who after winning the title of Miss India Universe 2013 went on to make it to the top 10 in the international pageant shared that at one point in her life she "wanted to be a doctor." Her parents who are both doctors inspired this, but Manasi surprised everyone when she decided to be a beauty queen just like she always wanted, "even as a little girl". She is qualified as an electronic and communication engineer.
Ever ready with a smile, Miss India International, Gurleen Grewal from Chandigarh spent her childhood moving around India because of her father's posting in the army and thus feels like she represents "all parts of India" –she is in her words "a mix of all cultures and places." "Simplicity is what got me here today," says Gurleen confessing that as a little girl she thought she was a princess and "waited for her handsome prince" but as she grew older she decided to stop waiting and give her best shot at getting a crown for herself. "Winning the crown turns you into a woman," she says emphatically.