Asian International School's 'Annie' delights
View(s):

When Jerome de Silva and Ishan de Lanerolle combine their genius in directing a musical the result is a foregone conclusion – Success. And so it was with Asian International School's latest production of that much loved 'Rags to Riches' story of little orphan Annie which has just ended a popular run at the Lionel Wendt Theatre.
A school performance can be uninteresting to all but parents and students but here was the exception. 'Annie' delighted all who came. It was truly a magical evening. Junior talent was greatly in evidence. Annie herself, played by 11 year old Shyalina Muthumudalige, gave a heart tugging performance which had the audience reacting vocally with 'ahs'and 'oohs' at touching moments on stage. Child heroines are usually hard to beat in productions and certainly Shyalina gave a fine performance but from this reviewer's point of view it was 17 year old, Udara Hapangama who stole the show as the frustrated, sozzled, tyrannical, Mrs. Hannigan, matron of the orphans home. A teenager playing a mature character requires a degree of talent one does not often find. Under Jerome's direction Udara's portrayal of a drunken virago was inspiring.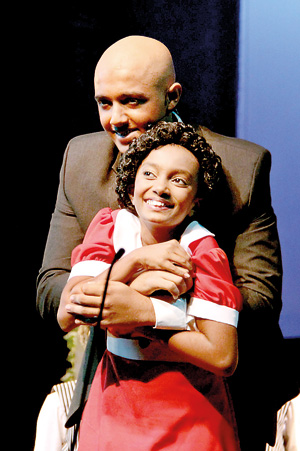 Shalantha Fernando and Bilalal Ghouse exchanged roles on the two nights of the play. Both showed tremendous skill in portraying 'Rooster' Mrs. Hannigan's rascally brother with emotions ranging from optimism to downright skullduggery. An exchange of roles was also effected between Vaishnvi Nadarajah and Chamathka Ratnayake playing Grace Farrell, secretary to billionaire Oliver Warbucks. Again both were highly convincing in the role of the sophisticated lady in virtual charge of Warbucks' life. (They made a pretty picture too.)
Particular compliments must be paid to the orphans forming the 'crowd' scenes. Every child actually 'acted' whether the focus was on them or not. Not once did any child drop her guard and forget that he/she was on stage. There was no untidiness of movement. Children did not get in each other's way despite large numbers being on stage at the same time. No easy task with normally rambunctious children aged 10 and 11 who comprised the orphans and other roles such as butlers, puppeteers, paper sellers et al. It had the Jerome touch all the way!
Clever scenic changes were effected with the switching of a few props turning an orphan dormitory into a street kitchen and then into a Warbucks mansion. Jerome's stage genius of maximizing effects with the minimum of fuss was never more clearly demonstrated than here. Low platforms doubled up as beds, tables and settees. Perfectly synchronized changes were carried out by well trained stage crews ( all youngsters ) who formed part of the cast itself. Seeing such flawless technique in a school production was remarkable indeed.
Special mention needs to be made about the lovely singing. 'Annie" is a musical and one expects the songs to be well done but under well known singer Ishan de Lanerolle, the young singers of A.I.S. acquired a near professional quality. Little Annie, Shyalini Mathumudalige's lyrically lovely tones were unexpected, coming as they did from a child of just eleven. Udara Hapangama exercised her beautiful voice not only in singing but in screams and fits of despair as she played out her role to perfection. Clearly it was the girls' voices that predominated. The only criticism one might make would be that the two boys in the role of Warbucks the billionaire could have been a little less stiff.

Others that need special commendation for singing are Harindi Jayakody as Lily and Vaishnavi Nadarajah and Chamathkaa Ratnayake who shared the role of Grace Farrell. Ishan de Lanerolle got the best from the enormous vocal talent at his command. As Musical Director of A.I.S. his regular training was amply demonstrated by the professionalism of the singers.
Shanuki de Alwis brought a wealth of experience to the training of the dancers. The dances expertly enhanced the lyrics and the plot. I particularly enjoyed the 'Broom Dance' which the orphans pranced through with great gusto. All the dances in fact were most appropriately choreographed. Excellent costuming was expected as it was in the hands of Jojo de Silva whose wizardry turns out such perfectly tailored outfits. Particularly eye catching were the orphans transformation from little ragamuffins in tatty cast-offs to pretty little girls in beautifully fitting pastel shaded dresses.
School performances can rarely be repeated because students' time is limited but one wishes that an exception is made in this case for those who missed this outstanding production. - GBM