A seaside getaway : Jetwing Thalahena Villas
View(s):

Adding to their collection of luxury villas around the island of Sri Lanka, Jetwing Hotels now unveils Jetwing Thalahena Villas – a set of 8 villas located in the favoured tourist destination of Negombo.  Featuring unparalleled access to the beach and ocean, each villa features three bedrooms, a living and dining area, and a private swimming pool.
With the first of the eight villas already open, Jetwing aims to cater to families, couples, and groups of friends. Designed and constructed according to the great Geoffrey Bawa's ideals of open spaces, expansive courtyards and spacious areas providing that important personal touch – one of homely hospitality and charm.
The rooms, as befitting the Jetwing brand, are simple yet elegantly adorned. Creating an atmosphere of comfort and indulgence, each room features a world class bed, LED TV and lighting, air-conditioning, and attached bathrooms with hot and cold water.
The villas also possess a fully equipped kitchen, perfect for whipping up a culinary storm or a simple snack for the family.Hiran Cooray, Chairman of Jetwing said in a statement that 'Our villa collection is second to none, and we pride ourselves on properties that only give the very best to our visitors. With Jetwing Thalahena Villas, we look forward to expanding the industry of tourism to other segments, from all over the world.'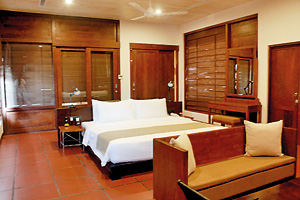 Family owned and in the tourism industry for the past 40 years, Jetwing Hotels has surpassed expectation at every aspect. Building on their foundation of being passionate, as well as the experience of true, traditional Sri Lankan hospitality, constantly pioneering discoveries captures the essence of the brand. Such a strong statement and direction have enabled Jetwing Hotels to imagine, create and manage marvels and masterpieces, where distinctive design and elegant comfort complement each other and the environment.
Considered as a priority, sustainable and responsible practices are implemented through the award winning Jetwing Eternal Earth Programme; with energy efficiency, community upliftment, and education of earth saving measures to school children being a few belief of the Programme.