MG cars return to Sri Lanka
By Bandula Sirimanna
View(s):
Sri Lankans will soon see the return of MG cars – not in familiar sports or racing car models – but in semi luxury fashion with the launch of the MG 6, designed and engineered in Britain.
It is the first all-new MG to be launched in 16 years and also the 21st century incarnation of a 90 year old brand that was once a byword for speed, open-topped and carefree about British sports cars.
Unimo Enterprises Ltd, a fully owned subsidiary of United Motors Lanka PLC, has introduced to the local vehicle market the new MG6, a British brand – now owned and built by Chinese conglomerate Shanghai Automotive Industry Corporation, company officials said.
Chanka Yatawara, Group CEO /Executive Director, United Motors told the Business Times that he was optimistic about a new boom in the Sri Lankan car market in the near future with a change in the current high tax structure .
United Motors Lanka is eying future market conditions favourable for brand new semi luxury vehicles, he said, adding that even now there is considerable demand for these colourful models among the elite and new rich youth.
"On the other hand if we fail to introduce these latest models, then the company will lose the brand franchise. So we are always looking ahead to launch new brand models although there was drop in vehicle sales at present due to heavy taxes," he said.
But this will not be permanent, he added. MG brand is no stranger to Sri Lankans as it was a popular brand of choice amongst motor racing enthusiasts and will continue to be revered for its performance capabilities.
He expressed the belief that the MG6 will attract Sri Lankans for its impressive engineering and new features that address modern lifestyles.
The model to be introduced provides an outstanding mix of features, performance and handling combined with definitive automotive aesthetics, he revealed.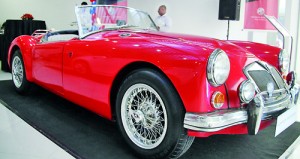 CEO / Executive Director of Unimo Enterprises Ltd, Mahesh Gunathilake told the Business Times that the company plans to sell 10 to 15 cars per month.
He said that they have received confirmed orders for two MG6 cars on the very first day of launching the vehicles.
The car market is struggling to survive at present but it will become vibrant like a couple of years ago, he added.
He noted that ,"MG vehicles, as we know them today, are widely renowned for their racing heritage and rich history, which dates back to its inception in 1924. This iconic brand is not only cherished because of its emphasis on performance capabilities, it also enjoys a greater loyalty across the globe".
He further said that the MG6 is a very well-honed car that shows all the subtlety and expertise of skilled British development.
All MG6 models come with 1.8-litre turbocharged petrol engine, five-speed manual gearbox and front-wheel drive. Suspension is via MacPherson struts up front and 'Z-axle' multi-links at the rear.
The MG Car Company got its name from Morris Garages, a dealer of Morris cars in Oxford which began producing its own customised versions to the designs of Cecil Kimber, who joined the company as sales manager in 1921.