Provinces get their own butterflies
By Malaka Rodrigo
View(s):
Everybody loves a butterfly and perhaps Sri Lankans more than most: four years after the Sri Lanka Birdwing was declared the national butterfly each of the nine provinces are to get their own butterfly.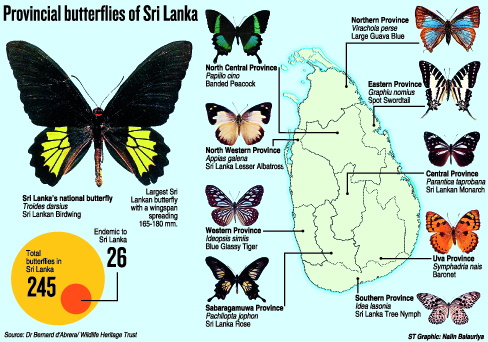 The nine are considered flagship species due to their attractive colour patterns and have been selected because they are endemic to Sri Lanka, charismatic and readily seen. None of the butterflies are a pest at any stage of its life cycle nor a vectoring agent of disease.Researchers have also satisfied themselves that these species have no negative cultural or spiritual beliefs attached to them.
Sri Lanka is home to 245 species of butterflies and 26 of them are endemic to the country.
The chosen butterflies have been evaluated for their suitability for each province by the Butterfly Expert Group operating under the Biodiversity Secretariat of Ministry of Environment and Renewable Energy.
"The establishment of provincial identity through declaration of the provincial butterflies will create further regional awareness and ensure conservation of the butterflies and their habitats," the Biodiversity Secretariat said.
The Butterfly Expert group has set up an action plan for butterfly conservation.
The biggest threat to butterflies is habitat loss and degradation as well as pollution – we hardly see the large swarms of butterflies that could be observed 20 to 30 years ago. The National RedList named 99 species in a "threatened" category, highlighting the kind of trouble these beautiful creatures are in.
Life-cycle needs
Once a butterfly emerges from its tiny egg it spends its first few days as a caterpillar feeding on vegetation. Then it reaches its pupa or chrysalis stage to complete the transformation to a beautiful butterfly.
Because of this life style butterflies need a range of resources including plants and flowers for nectar. Some butterflies also feed on the sap of ripe fruits and dung of animals. Butterflies also absorb minerals by sucking on damp soil.
They have varied distribution patterns depending on climate, topography and geology as these factors determine the types of vegetation that grow in a particular area.
Many species survive on a wide range of resources and can migrate widely. A few species, however, display a very local and restricted distribution because they are constrained by resources.