Outer Circular Road around Colombo to ease traffic congestion within
First phase from Kottawa to Kaduwela opened yesterday
View(s):
The second phase of the Outer Circular Road around Colombo is set to be completed by the end of next year, officials said yesterday.The first phase from Kottawa to Kaduwela, of the three-stage project, was launched yesterday by President Mahinda Rajapaksa. Construction of the second phase from Kaduwela to Kadawatha is under construction, while the third phase is from Kadawatha to Kerwalapitiya.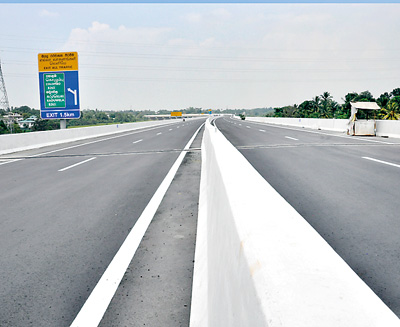 The section opened yesterday is 11 km long with four lanes, which could be expanded to six lanes, and the estimated travel time is seven minutes, Kaduwela-Kottwa section Project Engineer, Wimal Kandammby told the Sunday Times. The cost of this phase was Rs 24. 9 million and was funded by the Japan International Cooperation Agency (JICA).The road includes the longest bridge in Sri Lanka which is 3.3 km long and runs over marshy land.
"Construction has been carried out in an eco friendly manner, and that is one of the reasons a bridge was built over the marshy land. This would also avoid any possible flooding," he said. He said that the completed project would reduce traffic around Colombo. Meanwhile, the southern expressway extension from Pinnaduwa in Galle to Godagama in Matara, a distance of 29.5 km, will be opened next week.
The gazette notification on user fees on these roads has been announced.Accordingly cars, dual purpose vehicles and light motor lorries (four wheels) will have to pay Rs 600 from Kaduwela to Godagama in Matara. Motor coaches, light motor lorries (six wheels) and motor lorries (trucks) will have to pay Rs 1,800.
Light motor coaches, including passenger vans with more than nine seats, and all buses having more than nine and less than 33 seats, will have to pay Rs 1,200 from Kaduwela to Godagama. Heavy motor coaches and heavy motor lorries will be charged Rs 2,100.