Many hands but no directing brain in fight against drugs
By Nadia Fazlulhaq
Designer drugs and deadly 'sweets' in international and public schools
View(s):
Lack of an independent enforcement body to impose laws and direct narcotics trafficking investigators has led to the country being used as a transit point by international drug mafia, a drug expert warns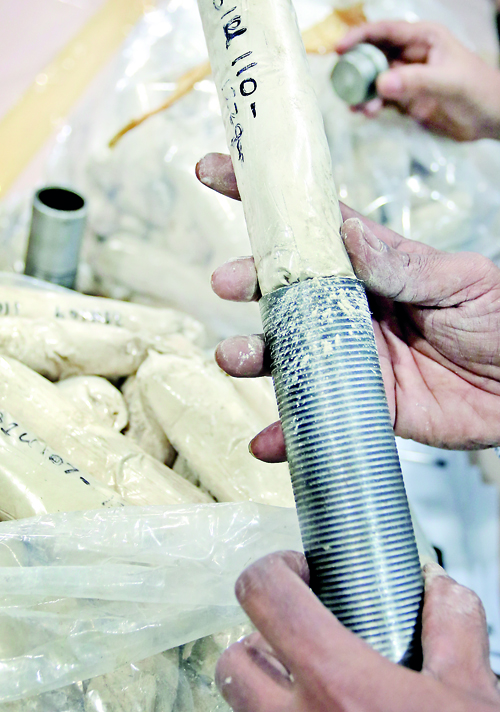 With 45,000 heroin users in the country and drug use spreading through schools and universities, the narcotics menace has also reached deep into the country, authorities say.
Some 297kg of heroin, 166kg of cannabis, and 422g of hashish were seized last year.
The country's first Police Narcotics Bureau (PNB) chief and former deputy inspector-general of police, Anton Jeyanathan, said Sri Lanka should work closely with international agencies, with training from international experts in narcotics detection and investigation.
Last week, Customs officials seized 36kg of brown sugar heroin concealed in two boxes in a 40-foot container that were to be declared as boxes containing iron material. The shipment, from Pakistan, was registered under the name of a Pakistani national living here.
The bank accounts of two main overseas-based narcotics operators, Wasantha Mendis and "Veeduru" Soyza were also confiscated last week. Among the safety deposits of the narcotic operators were cash, diamonds and gems worth about Rs. 85 million.
"In many countries the Dangerous Drugs Control Board directs authorities to conduct investigations, come up with action plans and strengthen surveillance while making sure that authorities continue with investigations. Here, the DDCB is just a co-ordinating body mainly involved in collection of statistics and running rehabilitation programmes," he said.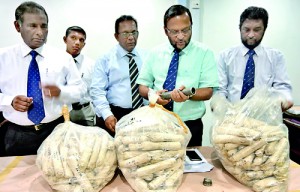 The former DIG said a combined taskforce should be established with Customs, the Police Narcotics Bureau, Police Special Task Force, the navy and army working together to control the drug menace.
"Unfortunately, about 99 per cent of narcotics-related prison admissions are drug addicts and in a majority of these cases only the detection of drugs and deployment of special teams are reported – there are no follow-ups or further arrests of drug kingpins," he said.
Narcotics, especially heroin, are smuggled into the country from the "Golden
Crescent" region that includes Afghanistan, Pakistan and Iran, the "Golden Triangle" countries, Myanmar, Thailand and Laos, as well as from India.
Sri Lanka mainly gets brown (street) heroin, which is sold at Rs. 8 million a kilo here. The average street price of local cannabis is Rs. 25,000 a kilo. Estimated heroin street-level supply is 2kg a day (763kg a year).
Mr. Jeyanathan said the PNB should focus on nabbing smugglers and sponsors while local police should obtain information on drug users and dealers in their respective areas.
"There are instances of politicians or their family members being involved in drug smuggling or protecting drug traffickers and dealers. Police should take strict action despite these being influential people. The bureau has a duty to step in and order investigations," he said.
The current Narcotics Chief, SSP Kamal Silva, said plans have been drawn up this year to take action against drug smugglers and drug dealers as well as confiscate property gained from the narcotics trade.
Another top official said security should be strengthened at entry points at airports, sea ports and domestic fisheries harbours. He said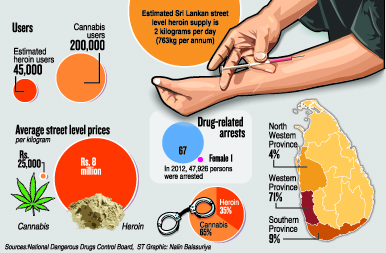 Tourist Police had been requested to be vigilant especially in the southern to northwestern coastal belt.
There are an estimated 45,000 heroin users and 200,000 cannabis users in the country, said the Director-General of the National Dangerous Drugs Control Board, K. Gamage.
Mr. Gamage said that in 2012, 47,926 people were arrested over narcotics charges, two-thirds of them for cannabis and the remainder for heroin.
Most drug activity was in the Western Province (71 per cent) followed by the Southern Province (9 per cent) and the North-Western Province (4 per cent).
"We (the Board) have no powers to investigate but only to formulate laws and regulations on drug trafficking and research and maintain rehabilitation centres and provide technical support such as training and provide seed money to narcotics bureau officials to obtain information," Mr Gamage said.
He said Delhi, the Maldives and Karachi were among the new source points for narcotics entering the country. There had also been several narcotic seizures from Maldivian students here.
Costly addictive substances are reportedly a popular trend among international school students while low-priced cannabis is in use among university students.
Dr. Vinya Ariyaratne, the Executive Director of Sarvodaya, the largest non-governmental grassroots organisation, said field workers and volunteers had observed the proliferation of non-hard drugs in the schools in the form of toffees and sweets.
He suggested more awareness programmes as primary prevention should be conducted for youths, school students, parents and communities.
Unemployed youths were the most vulnerable, and the government should create more economic opportunities that could reduce the threat of unemployment causing addiction.
"From village youths to the urban slum youths, the government should focus on employment opportunities, life skills development programmes and sports and provide credit to start businesses and encourage entrepreneurs.
"The government should do this in parallel with the macro-economic development work taking place in the country," said Dr. Ariyaratne, who is also lecturer in Community Medicine at the Faculty of Medical Science at the University of Sri Jayawardenapura.