Human smuggling: Five kingpins arrested since 2012
By Chathuri Dissanayake
- Muhundan caught in well-laid trap - Racket under control, says Police spokesman
View(s):
When Muhundan got a call from Raju* inquiring about his 'migration services' he readily gave details. The next boat to New Zealand will leave soon, and if Raju wants a place in the boat he should pay the advance immediately. Raju agreed to do so and arranged to meet him in Trincomalee with Rs. 50,000 as advance money.
Muhundan was raising money to leave the country and give the authorities the slip. He knew the Criminal Investigations Department (CID) was closing in on him.
Little did he know that the CID was already on his trail, acting on information collected by interrogating other suspects involved in the racket. Raju was a part of well planned scheme to trap Muhundan.
After the call, the special investigations unit in the CID swiftly went into motion and laid a trap to catch Muhundan red handed. On March 1, the unsuspecting Muhundan arrived in Kalladi, the prior agreed location to meet Raju to collect the advance payment. The money would enable him to buy his plane ticket to escape authorities. Instead the meeting landed him in jail along with some of his 'sub agents' in his human smuggling net work.
When arrested Muhundan was living in a farm in Badulla with his second family. He has moved to Badulla to avoid being detected by the authorities. He had abandoned his first wife and three children in Valaichchenai.
The man is said to be responsible for close to 500 Sri Lankan irregular migrants currently living in Australian detention camps. He has had a wide spread network in the North and the East to recruit people to embark on their fateful journey. Many lured by the enthralling tales of riches and comfort that Muhundan and his agents told them paid between, Rs. 1,000,000 to 1,500,000 per person to go to Australia or New Zealand.
Muhundan was a brick maker before he got into the people smuggling racket in 2009. He first partnered 'Chandrakumar' who was arrested by the police in 2012. Following the arrest of Chandrakumar, Muhundan went solo, and is suspected to have sent close to 100 boat loads to Australia since then. According to police, Muhundan was also responsible for two of the boats which were apprehended last year in Negombo and Trinco as well. Police also said he was a known figure to Australian law enforcing authorities due to his heightened involvement in the human smuggling business.
To operate the ring, the racketeer has received assistance from his aunt and a male cousin living in Australia. The cousin who claims to have won a lottery promises hopeful immigrants that he would help and look after their welfare once they land on Australian soil. Muhundan's sub agents also arranges communication between possible migrants and Sri Lankans who have migrated illicitly and are now living in Australia, to help them make an 'informed decision'. Often people from the same area are connected with each other. Many who have managed to reach Australia or have been placed in detention centres speak of the comfortable facilities available even if they are placed in those centres.
"They tell people they have access to internet, IDD facilities and get good food," explained one of the CID officers working in the unit.
The sub-agents employed by smuggling racketeers such as Muhundan are the key in recruiting people for the journey. They spread the word that a boat is being arranged from one of the locations such as Trinco or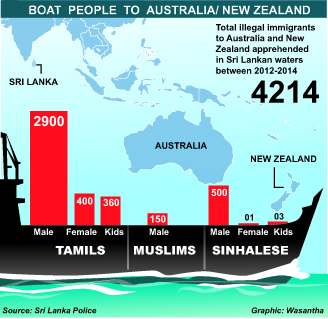 Negombo and would leave before a stipulated date. They would collect an advance from each hopeful migrant. With part of the money collected they buy a second hand boat from the point of departure. The boat would be reasonably repaired and would soon set sail. However no guarantee is made about the destination and racketeers may fail to collect the balance payment due from the migrants if the journey doesn't reach the desired location.
Earlier the skippers or the boat crew mingle with the passengers to pose as immigrants themselves. They are given the option of staying back once they reach the destination. They can also opt to be deported and return to Sri Lanka by air. The skippers used this opportunity to repeat their illegal activity until local authorities took steps to arrest and remand them. In some instances one skipper has been responsible for smuggling people in three boats. Up to date 445 individuals identified as 'facilitators' in the smuggling rackets have been arrested and remanded without being given bail. If proved guilty each will be given a maximum of five years imprisonment.
Since 2012, five kingpins of human smuggling rings – Chandrakumar, Namal, Vira, Lavandi and Muhundan have been arrested.Investigations have revealed that Ruban, another wanted man accused of human smuggling has escaped to India. While some of the sub-agents have also been arrested, the majority of the members working for the main smugglers still remain at large.
The CID unit comprising ASP Keerthipala and IP Hewawaduge are conducting further investigations under the supervision of Deputy Inspector General of CID Ravi Seneviratne and CID Director D.R. L. Ranaweera.
Investigations have revealed that the trends in human smuggling have changed. Instead of risking detection in Sri Lankan waters, smugglers now arrange for immigrants to fly to Indonesia or Malaysia. A boat journey is planned from this transit location to the destination being either Australia or New Zealand. According to Police Spokesperson Ajith Rohana, smuggling has declined over the last year.
"Last year there were four boats detected and a total of 352 people arrested. In February this year another boat with 75 people was detained. The number of boats detected is less than last year. Sri Lanka is the only country which faces this situation and has been able to control it" he said.
* Names have been changed
to protect identities