Slippery principals use devious means to extract bribes
By Kosala Ranabahu
Watchdog says public willing to pay what it takes to get results
View(s):
School principals are using new methods to collect bribes in order to avoid detection as complaints continue to flow in about corrupt practices over admission of children.
This week officials of the Bribery Police in civilian clothes arrested the principal of a Matara school in the act of receiving a hefty bribe to admit a child to Grade One. In Matale another principal was placed on remand after she and an accomplice allegedly took a Rs. 150,000 bribe.
Dr. Jayantha Wickramarathne of the Commission to Investigate Allegations of Bribery or Corruption (CIABOC) told the Sunday Times that one method used by corrupt school principals was to use an accomplice unconnected with the school to collect the money outside the school in order to escape detection.
He said some of them gave their own or their accomplices' personal account numbers to collect money allegedly for Past Pupils' Associations etc. This made it difficult for the Commission to take action against them.
He said most complaints of bribery were lodged with the Ministry of Education. The bribery commission could take immediate action if informed of a financial transaction.
"The most appropriate time to make a complaint is when someone demands a bribe. That is how we managed to arrest the suspects in Matara and Matale," Dr. Wickramarathne said.
"Most of the complaints we receive are anonymous because people are reluctant to reveal their identity, fearing harassment," he said. "But we are restricted from taking measures against anonymous complaints unless those are of high importance.
"We want the public to make complaints directly through personal appearance, in writing by registered letter or through our hotline, 1954, in order that prosecutions can be made," he stressed.
This year, 32 cases of bribery were reported to Transparency International Sri Lanka – and those are only the incidents where the victims could not achieve the benefits for which they had laid out money..
On Monday (February 24) the principal of the Matara Uyanwatta Primary Model School was arrested for allegedly soliciting a bribe of Rs. 53,250 from a parent to admit her daughter to school.
The Matara Magistrate's Court placed the principal on remand until March 7.
On the afternoon of the same day the principal of Vijaya College Matale and another individual who was acting as a security guard attached to the Postal Department were arrested on a charge of allegedly soliciting a bribe of Rs.150,000 to admit a Grade Two student to the school.
The parents lodged a complaint at CIABOC. They said the principal had initially demanded Rs. 200,000.CIABOC had arrested the acquaintance of the principal in the act of accepting the bribe and later the principal was also taken into custody.
Matale Additional District Magistrate on Tuesday ordered the Principal of Vijaya College, Mrs. Daya Kaluaarachchi, to be placed on remand until March 4.
Transparency International Sri Lanka's Executive Director Mr. S. Ranugge said the organisation had received 32 bribery complaints so far this year over Grade One school admission. Complaints had come from Colombo, Gampaha, Ratnapura, Kurunegala, Galle, Kalutara, Kandy and Matara.
Parents had been asked to put the payments into Past Pupils' Associations, School Development Associations, the main school bank account or sometimes directly into the principal's personal account.
"People said that if they refused to give money they could not get their children admitted to the school," Mr. Ranugge said.
"There was a case in Galle in which the parents were asked for Rs.100,000 for admission."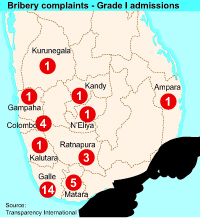 "When we had a discussion with those victims we learned that even though they lived close to the school they were given low admission eligibility status – this was because they had not paid the amount of money asked for," he said.
Mr. Shan Wijethunga, Senior Manager of Outreach and Communication Division of Transparency International Sri Lanka said that although the organisation had repeatedly revealed details of bribe solicitations over the past two months no investigations had been conducted by the government.
"We have been educating the public about bribery over the past few years. But unfortunately we have not received a positive response," Mr Wijethunga said. "People tend to offer bribes and get their wishes carried out whatever happens."
Crimes of giving or receiving bribes carry a punishment of seven years' jail and a fine not exceeding Rs. 5000. In addition to this a penalty is imposed of a sum equal to the amount of the gratification.
Additional reporting by Mahesh Keerthiratne, Matale