Paddy farmers in quandary as drought continues
By Chathuri Dissanayake
Switching to alternative crops risky, due to lack of guaranteed price
View(s):
Sitting under a shade to shield himself from the harsh mid-day sun after tending to his garden plot, S. Kumara in Merigama, Ampara told us he had a difficult decision to make as to what proportion of his harvest he should sell this season.
If the drought continues into the next season he would not be able to farm the four acres of land he cultivated this time. In such a
situation he would not have enough rice to feed his family. To avoid such a situation he had to retain, from this season's harvest, twice the quantity of paddy usual reserved for family consumption. But such a move will automatically drastically reduce his income, and he would be unable to pay his debts and meet other expenses.
His worries are compounded by the rising cost of his wife's medical bills. She is bedridden, and needs continuous medical treatment. In addition, with two children going to school, Kumara had to make a difficult decision. His only hope is in divine intervention, he says.
"We lead hard lives. I don't have any savings. I haven't been able to even improve on the decades' old house my father left us," he tells us, pointing to his house, a basic structure with a tin roof and walls built with limestone.
Like Kumara, many other farmers are worried about their future. At the farmers' meeting Kumara attended the previous day, they were informed that only 30 percent of the arable land will be provided with water to cultivate paddy. The farmers were advised to cultivate alternate crops in the remaining 70 percent of their lands.
The meeting and the pre-harvest meeting held on Tuesday had given rise to more unanswered questions.
If the farmers are to cultivate alternative crops, will the government provide them with good quality seed? Will there be a good market for the produce and will there be a guaranteed price for each crop?
"At least we know there is a market for paddy and we know we can sell our produce to the Paddy Marketing Board" says S. Sirisena, a farmer in Ampara.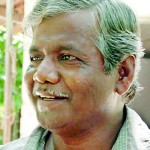 Meanwhile, the major tanks in Hambantota District are filled to almost 65 percent of capacity, Ampara has only 49 percent, while Anuradhapura and Kurunegala have less than 45 percent.
The Met Department has already forecast that the rainfall expected in the affected districts would be below average and would not be sufficient to fill the reservoirs and recommended that farmers switch to alternative crops. The department has also instructed its officers and advised agriculture officers in the areas to encourage farmers to cultivate a portion of their lands within the next two to three weeks. The aim is to use whatever rainfall the areas would receive in the next few days to cultivate some crops.
Irrigation Department Additional Director General Abdul Majeed said this move will assist in maximum utilisation of tank water available in May to cultivate the remaining land.
Both the Irrigation Department and the Agriculture Ministry have recommended that farmers switch to alternative crops or at least cultivate a portion of their lands with alternate crops.
Not many farmers are happy to do this, complained Mr. Majeed. His department has been campaigning for a gradual switch to alternative crops and he thinks the present situation is an ideal opportunity to do so. This has been found to be a difficult task after last year's soya crop fiasco, where farmers got a poor harvest after cultivating soya seed given by the Agriculture Department, Mr. Majeed said.
"After that bad experience the farmers are reluctant to even attempt to cultivate alternative crops, suspecting the quality of the seed issued," he said.
However, the Agriculture Ministry is backing this recommendation and has advised its officers in the affected districts to encourage farmers to cultivate alternative crops in at least 35 percent of their arable land.
However farmers in Anuradhapura District will be given the choice of cultivating paddy during the coming season.
"Their crop was affected this season as well. This move will help them cultivate paddy at least for their consumption", said Agriculture Ministry Additional Secretary Dr. D.M.N. Dissanayaka.
The ministry has also suggested that farmers start cultivating crop varieties with a short life span of two and half months to three months to minimise the impact of the drought.
According to Mr. Dissanayake, all district officials have been advised to inform farmers that a 50 percent subsidy will be given to them to buy seed for alternative crops. In addition the ministry aims to avoid repeating the mistake made earlier and wants to ensure that the seed supplied is of good quality, he said.
Meanwhile, decisions at district level on this issue have still not been made. In Polonnaruwa District, officers are buying time expecting rains by April. Polonnaruwa District Secretary Nimal Abeysiri said that since there is enough time before cultivation starts there was no need to make decisions yet.
"Cultivation starts around April and finishes only in mid-May. If the rains come before this time there is no problem," he said.
A similar attitude is reflected in Ampara Disrict, where some rain was experienced during the past week.
The authorities are still unsure of what alternate crops should be cultivated and how the seed will be available to the farmers if they are to go for alternative crops.
"We don't have enough seed supplies in the district if we are to go for alternate crops and we have not been informed if the Agriculture Ministry is going to guarantee the supply of seed if the farmers switch to alternative crops" Ampara District Secretary Neil De Alwis said.
Govt. to provide jobs for drought-hit farmersThe Disaster Management Ministry will begin a programme to provide alternative employment to farmers if they are unable to cultivate in the coming season due to drought conditions.

Framers will be hired for manual labour such as for cleaning tanks and waters way and will be paid the government stipulated daily wages, Disaster Management Minister Mahinda Amaraweera said.

He said discussions are underway to get the assistance of the Ministries of Agriculture and Irrigation for this plan.

The programme is already underway in the Anuradhapura District, District Secretary Mahinda Seneviratne said.
It would be extended to other areas in the North Central Province (NCP) this week, he said

Never ending wait for deeds, say farmers  

All they have is a permit to occupy the land 

Nimal Seneviratne and three fellow farmers gathered in his garden around four in the evening, waiting for the area survey officer. Mr. Seneviratne even calls the officer to confirm his participation.

In his spare time the surveyor has agreed to help Mr. Seneviratne and the three others to obtain their deeds by surveying their lands and guiding them through the process.

Now in his fifties Mr. Seneviratne still doesn't have ownership rights to the land he has lived in all his life. Why? The authorities have taken a lukewarm attitude to formally transferring the land to the owners. On four different occasions over the years he has asked for the deed from the authorities. Seven years ago he even commissioned a surveyor spending his own money, but the survey plan has not been accepted by the authorities.

"Surveyors take years to complete the work. By the time he finishes the survey, he gets a transfer and a new surveyor is appointed. The cycle starts again. Last time the surveyor completed the work, but the officers now say they have lost the documents," Nimal says.
Like Mr. Seneviratne, for many farmers who descended from the first settlers under the irrigation project, owning the piece of land where their house stands has become a life long battle. All they have is a permit to occupy the land.

Many are inconvenienced as they need the deed for purposes such as entering a child to a school or for applying for a bank loan, says Mr. Seneviratne.

There are always promises made about granting deeds during election time with most politicians using it as an excuse to rally people for meetings.

The shortage of qualified surveyors has made the task of surveying lands and issuance of deeds a difficult task, Nimal Sirilpala De Silva, Minister of Irrigation and Water Resource Management said.

Although the ministry has proposed commissioning surveyors from India to do the job, the suggestion has met with stiff opposition by the local surveyors' trade union.

However Minister De Silva claims to have started surveying the lands.

"There were 126,000 Mahaveli Scheme settlers who did not have deeds. We have surveyed and prepared about 5,000 deeds. But we haven't been able to distribute all of them," he said.

The distribution of deeds is to resume after the provincial council elections are over, he said.