Drug probe: Drugged or dragged?
By Chris Kamalendran
Investigations into Asia's largest heroin haul move at snail's pace
View(s):
Six months after Sri Lanka Customs' detection of Asia's largest heroin haul, police have yet to file action against the suspects in custody, as investigations have slowed down.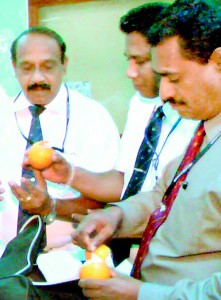 The Customs claim their investigations have been concluded, and the Government Analyst report on the 261 kg of heroin smuggled in from Pakistan has been filed.
The detection led to controversy following revelations that the Prime Minister's then Coordinating Secretary, Keerthi Sri Weerasinghe, addressed a letter to the South Asia Gateway Terminal which operates the Colombo Port, seeking a duty waiver and speedy release of the container which included the haul of drugs.
"We have now completed our investigations regarding the detection and handed over the probe to the police along with the suspects," Customs Spokesman Leslie Gamini, who is also the Director of the Legal division, told the Sunday Times.
The suspects– a Pakistani national and two locals involved in the import of the container which contained the drugs, are currently placed under a Detention Order pending investigations.
Police earlier recorded statements of Gampola Urban Council member Tharanga Vittachchi who introduced the Pakistani businessman to Prime Minister D.M. Jayaratna and his son Anuradha Jayaratne during the last Provincial Council elections in the Central Province. The statement of Anuradha Jayaratne was also recorded.
"We are continuing our investigations," says the head of the Police Narcotics Bureau SP Kamal Silva.
More than 500 kg due to be smuggled into Sri Lanka have been detected in Pakistan and India, while more heroin detections have been made at the Customs in Colombo and the Airport at Katunayake.
A Pakistani national attempting to smuggle 984 gm of heroin worth Rs 8 million, concealed in oranges, was arrested this week by the Sri Lanka Customs at Katunayake International Airport.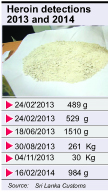 The 64-year-old Pakistani arrived on SriLankan flight UL 184 from Karachi with a bag of 72 oranges among his luggage. Deputy Superintendent of Customs Udaya Gamini, while checking, noticed a few cut marks on the surface of the oranges. On further investigations, heroin was found packed in polythein covers, in 12 oranges, each containing around 80 gm of substance.
In December last year, a Liberian national, a diplomatic passport holder, was caught attempting to smuggle 30 kg of heroin worth Rs 240 million from Sri Lanka to Uganda via Dubai. According to the Customs, this incident marked the first ever attempt in Sri Lanka's history to smuggle large amount of heroin from Sri Lanka to a foreign country.
Meanwhile, a series of cases where Ethanol had been imported into the coun
try without declaring or undervalued, have been detected, and fines imposed, but most of them have been challenged in courts.
In one of the cases, some 74,000 litres of Ethanol was undervalued and imported, and after the detection, a fine of Rs 15 million was imposed. However, the importer has challenged the Customs decision.
In a similar case, 80 barrels containing some 16,000 litres of Ethanol were imported on forged documents.Two more containers of 350 drums containing Sulphate Turpentine Oil and Rosin Resin Acid to be used in the manufacture of Turpentine, valued at Rs 9.5 million was also detained.
Additional reporting by Deepa Adikari