Caught in the torrent … tragic drownings are preventable
By Nadia Fazlulhaq
Country needs professional lifesavers, says expert
View(s):
The bodies of 20-year-old Rishmi Samanali and 12-year-old Rashmitha Madusanka lie on the sea bed off the Dikowita coastal area in Wattala, a few days after a strong current dragged the brother-sister duo out to sea, leaving their family in grief over the sudden loss.
On the evening of February 23, Samanali and her family were bathing in the sea. The others later came back to shore but she had insisted in staying in the water for a while longer.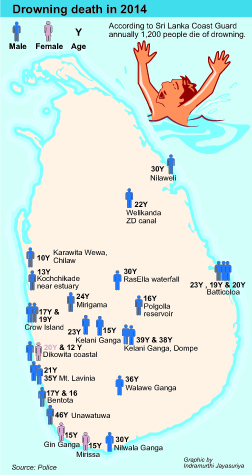 Shockingly, within a few minutes she was dragged into the deep sea, screaming for help. Her younger brother Rashmitha jumped into the water to save his sister but also fell victim to the current.
This week more drownings were reported: two 15-year-olds children died in separate accidents. One, Navodya Sapumali, who was on a trip to Mirissa with her family, was dragged into sea by a strong current while teenager Gamchari Thiwanka drowned while bathing with her brothers in the Gin Ganga on Thursday evening.
In Sri Lanka annually about 1200 deaths by drowning are reported both in the sea and in inland waterways such as rivers, waterfalls, streams and wells.
The World Health Organisation (WHO) says drowning is the third leading cause of unintentional injury and death worldwide after traffic accidents and falls.
Police statistics reveal that in the first two months of this year there were 25 recorded drowning deaths, including one overseas visitor. Most of the victims are male and aged between 15-35 years.
This year's drownings were reported in Mt Lavinia, Unawatuna, Nilaveli, a number of locations along the Kelani river, Bentota, the Polgolla reservoir, Walawe river and the RasElla waterfall.
Sri Lanka Lifesaving Association Vice President and Secretary to the Police Life Saving Unit, Assistant Superintendent of Police H.H. Chulasiri, said the main causes for drowning are ignorance of risks in the water, dangerous currents, inebriation and medical conditions.
"As well as increasing life-saving resources there should be legislation to take action against those who are ignorant of lifeguard flags and warning signs as well as against those who get into water after consuming alcohol," ASP Chulasiri said. "At present, police officers and lifeguards can only warn people. Ignorance of such rules should be punishable by law." He said there was a need for deploying more lifesavers in certain inland water spots notorious for drownings.
He said learn-to-swim programmes should be promoted island-wide, especially among children, as well as knowledge of first aid such as cardio-pulmonary resuscitation (CPR).
Sri Lanka Coast Guard Director Rear Admiral R.C. Wijeguneratne said there were plans to set up 12 new lifeguard posts in emerging tourist areas.
At present, the Coastguard has 12 lifeguard posts with trained lifeguard sailors in Wellawatte, Dehiwala, Mount Lavinia, Panadura, Beruwala, Alutgama, Balapitiya, Ambalangoda, Mirissa, Dikovita, Kirinda and Kankasanthurai.
The new posts will be put up in Negombo, Wattala, Kalpitiya, Arugam Bay, Pasikudah, Kalkudah, Mannar, Oluvil, Hambantota and in a number of tourist spots in the East and deep South.
"The majority of the lifesavers are recruited on a voluntary basis. The country is in need of professional lifesavers who are paid for their service. In countries like Australia there are both volunteers as well as life-saving service supported by local authorities in the respective areas. Here, this is seen only in Bentota," he said.
Rear Admiral Wijeguneratne said there was a growing trend of drowning incidents in inland waters.
"The local government bodies should identify specific areas where there is a risk of drowning and unsafe bathing spots. The Coast Guard is willing to train suitable individuals recruited by the local government," he said.
At present it was compulsory to have a lifeguard only at swimming pools.
"Some hotels and tourist resorts simply put up "No Lifeguar"' signs. This should be looked at. There should also be strict laws against those who consume alcohol before getting into water. Most of such deaths occur just two feet of water where sometimes the victims' lungs are filled with sand," Rear Admiral Wijeguneratne said.
He said many people here were unaware of secondary drowning or near-drowning.
"Once a person is saved it is important to make sure there is no water in the lungs. This may happen even after 24 hours of drowning. Such persons should be admitted to hospital until they recover."
This year a 46-year-old Norwegian, Diman Berd, drowned in the sea off Habaraduwa, the first foreign national to die of drowning in 2014. Last year there were a number of such fatalities, including the deaths of two British nationals, a French tourist, a German tourist, three Russian nationals and an Australian.
The locations of the drownings ranged from Bentota to Negombo, from Ulla beach in Pottuvil to Induruwa in Kosgoda from Hikkaduwa to Kutchchaveli.
Rear Admiral Wijeguneratne said most of the foreign nationals die from being caught in deadly rip currents that exist in what seem to be safe and calm seas – the victims are suddenly swept far from shore.
"Rip currents are dangerous – when you attempt to swim against them it makes you exhausted and that leads to panic and drowning. The current might even bring the person back to the shore without being dragged into deep under water. Some drownings take place at night when tourists like to take a dip in the warm waters after a drink," he said.