Banks laying a welcome mat for bandits, say experts
Security lax as helmeted robbers continue spree
View(s):
By Damith Wickremasekara
It was the fourth major daylight robbery in less than four weeks but this one was different: The bandits had picked a bank in one of the busiest towns, at one of the busiest times – a Monday morning. The Nations Trust Bank at Kohuwala was more than one hour into business. At least 10 customers were queuing up to deposit or withdraw cash. A few more were waiting to enter the bank.
At 10.17 a.m., a young man with a full-face helmet and a bag hanging off his shoulder entered the bank unchallenged; a second person wearing a similar helmet followed him. The first swiftly moved towards the cash desk and jumped over the counter, brandishing a pistol. As the three shocked female tellers stood still the man began collecting cash from drawers. His accomplice, armed with a club, threatened the customers, warning them not to put up any resistance.
Two minutes after their entry the two men were away back through the main door. One grabbed cash from a waiting depositor.The two men had got away with Rs. 1.5 million. This style of crime is becoming more frequent where bandits with full-face helmets break into pawn shops, banks or money exchange centres, carry out robberies and escape unchallenged without even an alarm going off.
"We have a strong belief that in addition to the two people who entered the bank there would have been other accomplices," an officer involved in the investigations said. According to preliminary investigations no alarm system was in operation at the bank. "Security in financial institutions should be stepped up. An alarm system should be installed inside and outside so that someone could set it off," the officer added.
"The security guards also should be vigilant – they could deploy one person outside the entrance and the other person inside the bank. In this instance the robbers seemed to have walked in and out unchallenged." The Kohuwala robbery took place a week after two men wearing full-face helmets broke into a popular money exchange centre and jewellery shop and removed more than Rs. 20 million in cash including foreign currency, and gold jewellery.
More details about that robbery emerged this week as five separate teams carried out their investigations into the robbery after the arrest of three persons including the UNP organiser for Negombo cum Provincial Council candidate, Royce Fernando. The three suspects in custody were placed under a 90-day detention order.
Officer-in-Charge of the Negombo Police Gamini Halwala told The Sunday Times that the robbery had been planned for nearly a month.
"Sub-Inspector T. Gajanayaka had been just outside the crime scene when the robbery took place, but had been unaware of the happenings inside. When the two robbers came out and the customers followed them he was alerted and gave chase on his motorcycle but later lost sight of them," Chief Inspector Halwala said.
"The officer and his team afterwards visited more than 10 shops involved in the sale of helmets. He made inquiries as to whether any persons had purchased full-face helmets. One of the shopkeepers gave information that an individual had recently purchased two helmets. Film of him had been captured on the CCTV cameras in the shop," OIC Halwala said.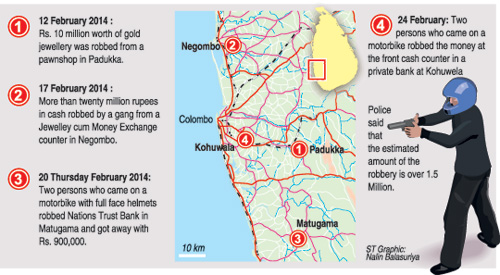 A further breakthrough came when that person was traced to a garment factory in Katunayaka. "The garment factory employee and who was a former driver of Mr [Royce] Fernando had taken part in the robbery. Thereafter Mr. Fernando was arrested," OIC Halwala said. He said media reports of a rehearsal for the robbery having taken place at Fernando's residence were incorrect.
Police are on the lookout for the two accomplices of the robbers who helped the two men who entered the place to escape. They were on two separate getaway motorcycles. Meanwhile, police investigating the robbery at Matugama where two men dressed in full-face helmets broke into a bank on February 21 and removed Rs 900,000 are yet to make a breakthrough.
OIC of the Matugama Police Chandra Padmalal told the Sunday Times that they were following certain information they had received about the robbery and were confident of making an early breakthrough. Banks, financial institutions and security firms involved in transfer of cash have moved to take additional security measures in view of the spate of robberies.
"We have instructed our security guards to prevent any persons entering the premises with full-face helmets," the manager of one bank in Kollupitiya said. "They have been told that if any person fails to comply with the order, that person should be turned away. We have made special arrangements so that such people can leave their helmets at a counter.
"This is one of the simple practices any bank or shop can apply as there is no necessity for people to wear a full-face helmet and go into a building," the manager said. Currently, many banks display notices that people should take off their caps and helmets when entering locations where the Automated Teller Machines are set up. However at some of the places the security guards do not enforce the order.
A senior security manager said that in view of the trend of robberies institutions will be forced to think of additional security arrangements."A system where the counter drawers could be locked off automatically from one location is one of the security measures which could be adopted," he said.An armed security guard would also be a deterrent.
Group Chief Executive Director/CEO, Certis Lanka Group, Mr Vipul Hettige said the complex security requirements of the country's many banks and financial institutions needed a multi-layered system of deterrence. "There has to be awareness of the four Ds: deter, deny, detect and delay," he said.Security officers should preferably be ex-servicemen, screened for their sense of integrity and character. Prior to recruitment, they should be professionally trained to handle a bank or financial institutions security operations and also trained in the skills of identifying genuine customers.
The guard should be armed wherever possible and it would be useful to deploy a security officer outside the building for surveillance purposes.
Mr. Hettige said installation of CCTV systems with recording facilities to cover strategic areas, installation of an alarm system with panic buttons near all tellers and other strategic locations, linkage of the alarm system to the nearest police station and central alarm monitoring station and installation of a guard tour system to monitor the security officers were among other desirable security measures.
He said deciding on the maximum cash limit to be kept with tellers, with excess cash being transferred to the vault or the drop safe, introducing a delay zone area at the entrance wherever possible, educating the staff on how to act prior to, during and after an incident, assessing the vulnerability, risk and threat level of the particular location and carrying out periodic reviews and security audits were other methods of improving security. All customers wearing helmets should be requested to remove these items before entering banks. Institutions should also liaise with local police and arrange for random patrolling at the location he said.