Ajhan Brahmavamso in Sri Lanka for Poson
View(s):

Ajahn Brahmavamso, now a household name in Sri Lanka, will be here on a brief visit during Poson Poya amidst his busy schedule.
The Ajahn Brahm Society Sri Lanka is planning to make the best use of his short stay by planning a series of Dhamma talks and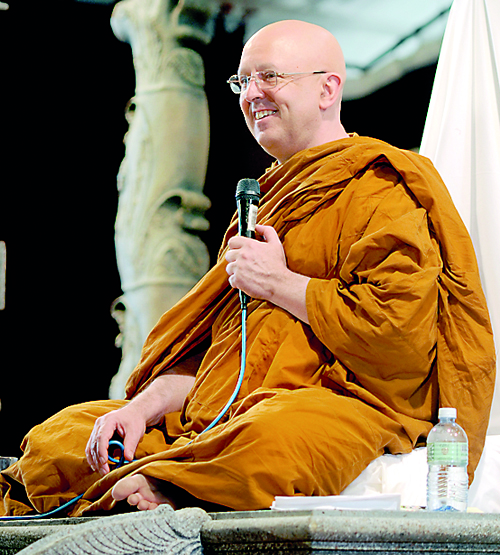 discussions at a few locations both in and around Colombo and in the South.
In order to give an opportunity for a large number to listen to Ajahn Brahm in Colombo, arrangements are being made to have a full day programme in English at the BMICH on Saturday June 15. The following day another programme is being held exclusively for the Maha Sangha at the same venue. As on previous occasions, free passes will be issued for participants. The locations fro
m where the passes can be collected will be notified shortly.
Prior to the BMICH programme, he is due to deliver a talk on Thursday June 12, Poson Poya day. The venue is yet to be decided. On Friday, June 13 he will address the youth in Hambantota in the morning and proceed to Ellakanda Aranya Senanayaya at Kekanaduwa, Matara for a Dhamma talk.
The Society advises prospective participants to note these dates and locations. During Ajahn's first visit in January 2011 he conducted a well-attended meditation retreat in Bandarawela and had a full house at BMICH for a full day programme.
"We have been extremely fortunate to have Ajahn Brahm even for a few days since he finds it difficult to accommodate us due to invitations from countries he has not been to earlier and where there is growing interest in Buddhism," says Venerable Mettavihari, patron of the Ajahn Brahm Society Sri Lanka.