Sri Lanka Girl Guides go ECO
View(s):

Lord Baden Powell (the Founder of Girl Guiding ) chose "Be Prepared" as the Guide Motto. This was such a camp where the Motto was truly proved to its utmost and a true Guide's skills were put to test .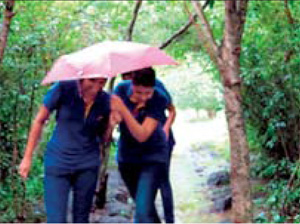 It all began on December 14, 2013 when 18 Guides along with five other officials left to the Centre for Ecological and Eco cultural (CES) situated in Diyakapilla, Sigiriya. Not far from the Sigiriya rock this place was started by Mr. Sujeewa Jasinghe with his exceptionally knowledgeable team.
There was only solar lighting.
The cabanas, lecture hall, mess hall were built completely out of clay and the food was organic and came from the immediate surroundings.
The best event of all was paddy planting. Although we were
amateurs at this, we had fun
wading in the mud and planting
paddy plants. Other activities include hike cooking where we
had to find our own vegetables, bee
keeping, bird watching near the
borders of the Minneriya National Park, a campfire,many lectures and talks on the biodiversity in
Sri Lanka, interesting facts about plants of medicinal value and much more fun filled activities,
As this camp gave us bundles of memories we returned home with a new outlook on life and also loads of insect bites after wading in the paddy field. As Girl Guides we were able to survive along with nature and completely lock us out from the technological part of life.
I thank Ms. Wajira Silva, the
officers on camp site with us, Ms. Visakha Thilakaratne (Deputy Chief Commissioner) for organizing such a camp and teaching us the true meaning of being be prepared!