Lankans abstain at the voting
By S.R. Pathiravithana
ICC passes resolution, giving more powers to Big Three
View(s):
The ICC's controversial Working Paper worked its way into the mainstream as South Africa, one of the three nations that opposed the proposal, changed its stance and voted in favour of the resolution yesterday.
Both Sri Lanka and Pakistan abstained from voting citing that they needed more time to discuss the amended resolution with their respective Boards.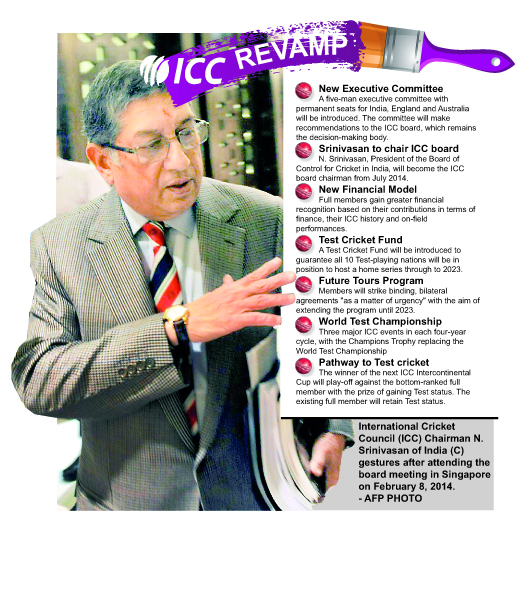 It is learnt that at the last moment the South Africa cricket administration had a series of discussions with Indian board (BCCI) officials and clarified contentious issues with them before they agreed to vote for the resolution.
Thereafter the ICC Board approved the resolution relating to the governance, competition and financial models of the ICC at the meeting in Singapore yesterday.
The Sunday Times also learns that BCCI President N. Srinivasan met the Lankan and Pakistani delegations and invited them to vote for the resolution, playing the Asian card, but after much deliberation, both opposing countries agreed to abstain, but not vote against. The Lankan delegation comprised SLC secretary Nishantha Ranatunga, Vice President Mohan de Silva and Treasurer Nuski Mohammed. At the time of going to press they were holding more talks with the ICC authorities on financial implications that would affect the two countries.
The resolution which was passed yesterday will have to be ratified by the ICC executive committee in April this year. This is the period that Sri Lanka is seeking to extract some consolations.
The resolution, once ratified by the Executive Committee will give the Big Three – India, Australia and England – veto powers in the ICC's new executive committee and a bigger share of the ICC's revenue.
It is learnt that the Lankan delegation finally opposed to only the new financial order that was coming into effect. Besides, with the Future Tours Programme becoming obsolete, India has agreed for a tour of Sri Lanka in the near future, but, no firm date was agreed upon.
SLC secretary Nishantha Ranatunga speaking to the Sunday Times from Singapore said "With the change of stance of South Africa at the eleventh hour, both Pakistan and Sri Lanka were on a very sticky wicket. With the ICC getting the eight votes mandatory to pass the resolution there was no point in our objecting for the sake of objecting. That would have made things very complicating for the Lankan camp. We went with the mandate not to support the resolution and we didn't. By abstaining we have opened a window for ourselves. Now we must make this a new beginning."