CFW hits the ramp
View(s):

Krishna Mehta: Cool designer and designs

Stepping behind the scenes of Colombo Fashion Week is voluntarily entering a whirlwind of colour and nerves, hairspray and chaos. In the midst of it all looking calm and collected, in a pink linen ensemble is Krishna Mehta. Be it her experience of more than 25 years in the fashion industry or her unruffled persona, it takes a lot to break the cool of one of India's master designers.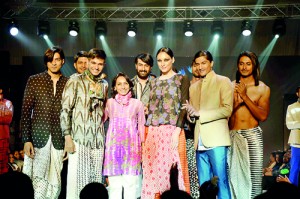 Inspiration, for Mehta comes through the folds of her beloved Indian heritage which she uses extensively in her men's and women's wear. Classic structures and shapes are tweaked to give a 21st century feel and draw the appreciation of any young Indian trying to strike a balance between cultures. It is this signature style of hers that has brought much fame to the modest designer who has been acclaimed for her philanthropy and textile work with accolades such as the Peacock Award (2004) and the Times of India Award (2005).
"We don't wear sarees all the time," says the designer bluntly. The interest shown by Sri Lankans in international fashion caught her attention. "I see almost the same scope in both Sri Lankan and Indian fashion," she says.
Hitting the ramp on the February 6 was her Resort wear collection 2014. Models in cool linen shirts and flowing pants floated across the ramp to the sounds of ballads from the hippie movement of the 1960s. Mehta's cool tones of grey, black and white floral patterns were teamed with bright pinks and purples giving a summery feel to her collection.
Wear something that makes you smile- Mevan
Among the shoal of designers riding the waves to our sunny island, is one for whom it is a return trip home. "An edgy street style kind of guy", is how Mevan Kaluarachchi who has made a name in the Netherlands describes himself. We meet him on Thursday; his collection of menswear will be on the ramp on CFW's closing night, the invitation to show here coming after his work was featured at Amsterdam Fashion Week.
Leaving Sri Lanka after his A Levels in 1996, Mevan went to London to study hair styling after his A'Ls at Mahanama College but soon realised that being at one of London's leading hair dressing institutions somehow "didn't quite feel right."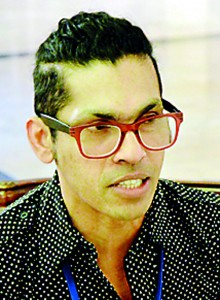 Fashion beckoned, and having learnt Dutch and graduated from the Fine Arts Academy William de Kooning Rotterdam in 2005 Mevan launched his own label in 2009 after working for several designers.
Making a dress out of paperclips for his entrance exam to the Dutch art school which challenged him to prove himself worthy of a place in the programme, he still recalls lugging his dummy with the paper-clip dress on the train from his residence a little outside Rotterdam. "People looked at me like I was crazy!" he laughs, "But I didn't care because I wanted to get in so badly!"
He never minds standing out and is quick to compliment people who try something different even if it means walking up to a complete stranger and appreciating their choice of clothes. "Only yesterday I saw two people in the lobby of the hotel, and I told them their clothes were nice- I think we should compliment each other more," he feels. Back in college he would wear a sarong despite being ribbed by his friends. "They called it a skirt and bullied me a bit," smiles Mevan, adding that eventually his foreign friends too wanted sarongs. "It's all about comfort and being confident enough to express yourself."
The island mentality" as Mevan puts it, is something he believes holds people back. "People were so restricted to express themselves in any way because if it was unusual, it wasn't always considered good," he explains.
"This is why I am so happy that CFW creates awareness, and broadens the scope of Sri Lankan fashion, not only among designers but people as well," says this designer who believes personal style includes comfort. "And I am so happy that designers are using local products that are practical and fashionable to wear." Always keeping the common man in mind when designing he intends to create clothes that are fashionable, practical and affordable. "You don't have to wear expensive clothes, you have to wear the right kind of clothes well" is how he believes one masters the art of being fashionable.
Being captivated by people and how they tell stories, Mevan often loses himself in a movie or book after a hectic day at his studio. When he isn't running in the morning, cycling, cooking or designing he admits, "I surf the net perhaps a little more than I should, but movies and just stories in general inspire me."
Catering to Europe's climate and clientele he says "my collection has been subject to minor adjustments." This collection- 'wardrobe' contains pieces that can be worn in Sri Lanka and stems from Mevan's belief that "every girl and guy should have a wardrobe that makes them happy and smile."