Make your dream home a reality
By Vinusha Paulraj
View(s):
Turning your living areas into a dream magazine-style space is no longer as herculean a task as you thought. The team at the brand new concept store 'Masterpieces@no.10' makes owning a dream house that much easier with their expertise and quality of products.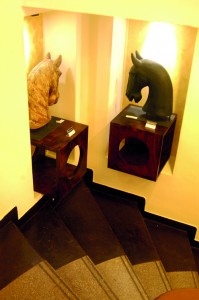 Starting out as just a backyard business in the Sheriffdeen residence, the consistent quality and finish of the product soon got people talking. Now 17 years later the business has outgrown the previous location and moved to their new location at No. 10 Gregory's Road. "We had a shop in Wellawatte but we outgrew the space there," says Director Masterpieces, M.D. Sheriffdeen. "We were keen on showing the customers how products will look like in a practical environment."
Walking into the store the display of products makes one almost feel at home. "What is unique about our store is that it has just about everything," says Mr. Sheriffdeen. Hoping that the store would be an ideal discussion spot for designers of all sorts and their clients he says he would like the store to become a one-stop shop where architects can meet clients and discuss all the options available for their spaces.Partnering with many well established names, each partner has contributed to the space be it providing efficient flooring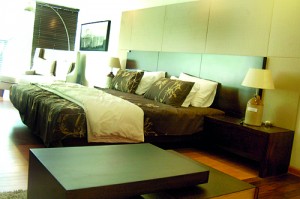 options, paint and wall textures or decorative artifacts. Each sample space has been carefully put together, each element hand-picked by the design team at Masterpieces.
Mr. Sheriffdeen and his team are invested in finding "home solutions", whether low maintenance flooring and furniture or energy efficient lighting. Even some of the decorative sculptures double as clever storage making it ideal for townhouses that tend to run low on space. Catering their game to the needs of townhouse dwellers, interior designers from 'Masterpieces@no.10' provide a free consultation service to meet each client's specific needs. Specialising in custom furniture design clients are also encouraged to bring their design ideas as Mr. Sheriffdeen puts it the store provides "Design or design it yourself" options.
While partners handle elements like flooring, decorative sculptures, lighting and even an entertainment room, Masterpieces remain solely responsible for all the furniture on offer. As Mr. Sheriffdeen proudly says "All The furniture is made in Sri Lanka, in our workshop at Panadura." At most materials are brought down from abroad but all the crafting is done in Sri Lanka which translates in the prices of the products as well. A range of outdoor furniture and state of the art fittings too are available.
The atmosphere in the Masterpieces showroom varies from space to space and walking around the premises you are bound to find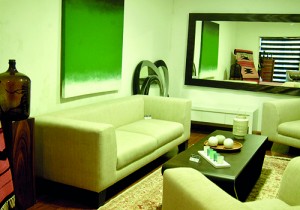 anything from the ordinary to things that actually take you by surprise like a cement sculpture of a gigantic foot. It's an eclectic mix of artifacts, textures and elements and elegance is the underlying theme throughout the space.
The store is definitely a must see, even if just to have a look at the available alternatives to decorating and styling a place. From branded bathroom fittings to bean bags you can literally find whatever you need even if all you need is an idea under one very stylish roof.
Pix by Indika Handuwala & Nilan Maligaspe