Indian Spiritual vocalist mesmerises audience at India Republic Day celebrations
View(s):

Indian spiritual vocalist Sonam Kalra and her Sufi Gospel Project mesmerised the packed audience at the Bishop's College Auditorium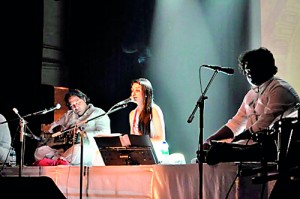 with their mellifluent virtuosity last week. Sonam Kalra was performing in Colombo as part of the 64th Anniversary of the Republic Day of India. Minister of Justice Rauff Hakeem, was the Chief Guest on the occasion and Y. K. Sinha, High Commissioner of India, presided over the function attended by diplomats and leading personalities in the arts scene.
Her popular numbers "Man Manam, Na Man Manam, Halleluiah, Chal Buleyya and In the Garden were extremely well received by the audience. She concluded her recital with the highly popular Rajasthani hymn "Mast Kalandar". Accompanying Sonam were Anil Chawla on keyboard, Rajesh Prasanna on flute, Ahsan Ali Khan on Sarangi, Amaan Ali Khan on Tabla and Tarit Pal on percussion.
The programme was organised in Sri Lanka with the support of the India-Sri Lanka Foundation, the Ministry of Culture and Art, Government of Sri Lanka, and Hotel Taj Samudra, Colombo.