Building on beauty and sustainability
Rafiq Azam, the Bangladeshi architect who says he is first an artist, here in Colombo to launch his book, 'Architecture for Green Living', speaks to Smriti Daniel
View(s):
Rafiq Azam doesn't believe a house needs a fan. It's a design philosophy that gives his clients in cramped, humid Dhaka – one of the most densely populated cities in the world – pause for reflection. Fortunately, Rafiq's portfolio and the work of his firm, 'Shattoto: Architecture for Green Living' inspire confidence. The spaces he designs are almost counterintuitive: courtyards lie unprotected
beneath the open sky in a country notorious for its monsoons, room is made for miniature gardens on every floor in a city where space is at a premium; apartment blocks do without boundary walls in a security obsessed age and of course, fans tend to be banned even in sweltering weather. You wouldn't think they could work, but Rafiq knows how to coax the best out of brick and mortar.
In Colombo last week, Rafiq launched his book 'Architecture for Green Living.' The event was held together with the Forum CSA, alumni of the City School of Architecture and coordinated by Michele Fonseka who introduced the visiting architect. The first in a series of launches, the event celebrated close to two decades of work from Shatotto. Its founder Rafiq has been honoured time and time again for his vision: he is the three-time recipient of World Architecture Community Award, was short listed in Leading European Architects Forum Award, was declared the Emerging Architect of the world by Urban Land USA, took home the AR Emerging Award London and was a finalist for Aga Khan Awards for Architecture. He has also won the Berger Award for Excellence, the Kenneth F. Brown Asia Pacific Culture and Design Award and is a four- time recipient of South Asian Awards for Architecture.
He wears his fame lightly – the real stamp of approval he says comes from clients by whose word his work stands and falls. He has said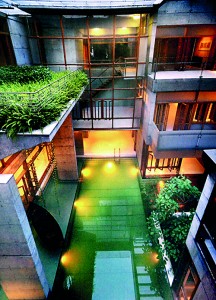 that he believes architecture must serve not just individuals, but communities and even humanity itself: 'I see architecture as a responsibility with its own dialects of conviction and comprehension. It has its own body and poetry, and has the power to transform the society into a healthy community.'
He is fond of quoting Van Gogh, claiming the line, "I feel that there is nothing more truly artistic than to love people" as the driving force behind his own design. The Dutch artist and the Bangladeshi architect also have a love of painting in common – Rafiq was a painter long before he was an architect and he continues to producing gentle water colours that draw on the landscape of Bangladesh's lush paddy fields and rain laden skies for inspiration. Even today, he says he considers himself an architect by chance and a painter by conviction.
Explaining that he wanted to be a painter since the age of 7, Rafiq says he poured "green and light" into his watercolours. Those are exactly the elements that so distinguish his designs. Green ponds, trailing vines and beds of plants, and a flood of light make his buildings beautiful spaces. His use of inner courtyards allows him to build spaces that funnel light and air into the heart of the building. His skill as an architect allows him to make the most of small spaces – he goes vertical and then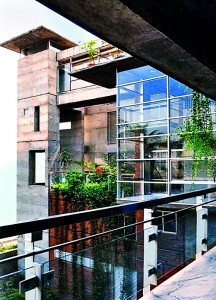 creates expanses that allow the outside in and that shrink the building's carbon footprint. In some senses he is attempting to replicate the beauty and peace of rural life, where the building is a natural part of the landscape. Truth be told, he is also inspired by a happy childhood and his own memories of communal living – Rafiq is not afraid of getting to know his neighbours.
Ponds and pools of water are present in many of his designs, and in that too he embraces what it means to live and work in Bangladesh. The largest delta on earth is fed by 52 rivers that carry water down from the Himalayas and eventually flow into the Bay of Bengal. He has said that water is what makes Bangladesh 'a country of toil and poetry.' 'During Monsoon these rivers inundate two third of the country's land depicting water the major element of the landscape. When the water recedes, it leaves a fine layer of fertile alluvial soil and the entire landscape is transformed into large patches of paddy fields dancing with winds.'
Crediting his wife with proposing the name of their business, Rafiq told his Colombo audience that night that 'shatotto' was a Bangla word that meant so on and so on, in essence to do something continuously. There is no better description of his work – refined with every building, his philosophy of beauty and sustainability is made tangible again and again.