Coal power chaos: Chinese firm fumes
By Namini Wijedasa
Top official defends Norochcholai plant, dismisses bribery charge
View(s):
The Chinese company that built the Lakvijaya Coal Power Plant has hit back at claims that it had sold Sri Lanka a dud generating station, the Sunday Times has exclusively found.
In a letter sent to Power and Energy Ministry Secretary M.M.C. Ferdinando in November, Li Chaoyang, Vice President of China
Machinery Engineering Corporation (CMEC), rejects allegations that high commissions had been factored into the contract price. He also insists that the negotiations and signing of the agreement were done "strictly as per the official procedures".
The Chinese and Sri Lankan governments have been dogged by speculation that illegal payments had been made by the State-owned Chinese company to secure the deal. Detractors claim that, after meeting the cost of these commissions with a portion of the contract price, the CMEC provided Sri Lanka with a substandard plant. Such criticism has become more pronounced in recent weeks due to repeated breakdowns at Lakvijaya.
"Recently, it is reported by local media that the Phase I Puttalam Coal Power Project was a corrupted (sic) project with high commission contained in the contract price and CMEC was chosen as the contactor due to the requirement of commission payment could be met (sic), which led to poor quality of project and the Sri Lankan government has compelled to sell the power plant, etc," says Mr. Li's letter, a copy of which was obtained by the Sunday Times.
"These reports are completely baseless, severely distorted and totally irresponsible and nonsense," he asserts. "It has ruthlessly insulted all of the staff from all involved parties who have devoted their hearts and exerted their utmost efforts to this project for so many years, and it is just a deliberate sabotage and attempt to destructing of long-history friendship (sic) between the two countries."
But a copy of an email received by the Sunday Times alleges that such payments were discussed between CMEC's Norochcholai Project Manager Ning Li and businessman Eshana de Silva, who was the commission agent for the project.
In it, Mr. Ning instructs Mr. de Silva to arrange for him and some colleagues to apply for multiple entry visas to Sri Lanka. He then writes, "According to my calculation, your comm. is $25.4Mn, including: A. $13.2Mn and B. $12.2Mn. Please check and contact me if any questions."
The email is dated June 10, 2005. Less than three months later, in August, the CMEC and the Ceylon Electricity Board (CEB) signed a Memorandum of Understanding with former Sri Lankan President Chandrika Kumaratunga and former Chinese President Hu Jintao as witnesses. The formal technical and commercial contracts were finalised in March 2006, witnessed by President Mahinda Rajapaksa and former State Councillor of China, Tang Jiaxuan.
It was recently revealed in Parliament that the total amount spent on Lakvijaya's Unit 1 — which remains closed due to a leak in the condenser — was US $448 million. The total amount spent on Unit 2 (which is expected to start commercial operations within a few weeks) is US $746 million.
In his letter, Mr. Li emphasises that Lakvijaya was a government-to-government project. It is "crystal clear" that the contract had been mutually agreed to after numerous negotiations between CEB and CMEC engineers. "The contract price is an open and reasonable price determined only and purely by contract work scope and work quantity as discussed and agreed between CEB and CMEC, and as reviewed and approved by all related government authorities in the two countries," he says.
Mr. Li then proceeds to account for the project cost. He says, for instance, that the configuration of the plant was much higher than what was required for other "plain 300MW plant" in order to satisfy local environment protection regulations. The contract price includes a coal jetty, a double-circuit transmission line and related substations, housing for operation and maintenance staff, several environmental monitoring systems and the entry road from the Palavi Junction to the power station.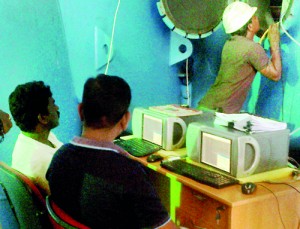 CMEC vouches for the quality of equipment installed at the plant, he says adding that they are from first class Chinese manufacturers who had been reviewed and verified by the CEB and employer's consultant before selection. CEB engineers had been present when the equipment was tested at the factory in China.
But the CEB said this week that there were three possibilities for the frequent breakdowns at Lakvijaya. One of them was substandard equipment or material. The other two are design flaw and shortcomings in workmanship. These assumptions are now being tested.
"We do have a problem with Norochcholai," Mr. Ferdinando admitted at a news conference on Thursday. "CMEC cannot shirk responsibility. We have discussed this with the company and we will get the power station for which we paid money."
Power and Energy Minister Pavithra Wanniarachchi, who chaired the briefing, said she had told Chinese officials that the failures at Lakvijaya also reflected badly on the Chinese Government. Mr. Ferdinando said the project had been a government-to-government transaction for which clear breakdowns were available.
"We only want a power plant that matches these costs," he said. Engineers are now grappling with frequent valve leaks in the Unit 1 condenser. Mr. Ferdinando said the CEB's opinion was that this component should be replaced—a process that would take time.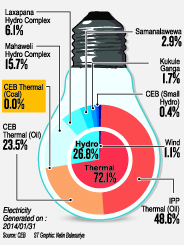 "We are not going to justify the breakdowns," he added. "In Norochcholai, there is an exceptional situation. Within a short period of time, we experienced water leaks in the condenser, which shouldn't have happened. Therefore, we are discussing the matter. We have asked the Chinese Government to intervene and the contractor to do the replacement."
The Secretary said that the condenser pipes could be springing leaks often due to them being lower in thickness. Similar pipes at the Kerawalapitiya power plant were one millimetre in thickness while these were less.
"An investigation is underway, of course," said M.C. Wickramasekara, Ceylon Electricity Board's (CEB) Additional General Manager (Generation). Material samples have been taken to laboratories for testing while both material and workmanship were being analysed with special equipment.
CMEC and other specialists are now working onsite, Mr Wickramasekara said. The company's Chairman and Vice Chairman also arrived this week "just to show their commitment". Despite the warranty period having lapsed, they have pledged to correct the faults at Norochcholai on their account.
The plant was under a two-year defect liability period for impairments and an extra-three year warranty for corrosion protection.
Chinese company bosses here for damage control
The Chinese company that built the Lakvijaya coal power plant will appoint a special team to examine the complete list of failures experienced by the project since it started operations.
"The president of the company requested me to compile the list," the Ceylon Electricity Board's (CEB) Additional General Manager, M.C. Wickramasekara, said. "He said he would appoint a team to investigate and that, if there is anything to be done, they will do it."Despite the warranty period for Unit 1 of Lakvijaya having lapsed, the China Machinery Engineering Corporation (CMEC) would fix all faults free of charge, Mr. Wickramasekara said. The plant continued to be out of commission this week as specialists from the Chinese contractor and an Indian firm hired by the CEB probed into a leak in its condenser. With the problems at Lakvijaya drawing widespread criticism for both the Chinese and Sri Lankan governments, the President, Vice President and General Manager of CMEC arrived in Sri Lanka for damage control.
They held talks with Power and Energy Minister Pavithra Wanniarachchi and Ministry Secretary M.M.C. Ferdinando on Friday. Yesterday, they conducted a site visit to Norochcholai and will hold an internal meeting to further assess the situation tomorrow. The delegation also had discussions with CEB officials. "In a broader sense, they are committed to repairing the condenser. It is premature for anybody to say what they will do. It depends on the outcome of ongoing tests." Mr. Wickramasekara said.
Meanwhile, two other power plants — Kelanitissa (combined cycle, 50 megawatts) and Randenigala — are also under repair. But Minister Wanniarachchi said at a news conference on Thursday that the people need not fear any power cuts or tariff hikes due to these shutdowns.
"We ask you, have there been any power cuts anywhere?" she asked. "We want to reassure the people of this country that we will not curtail power at any time. We have enough electricity to meet our requirements. Do not entertain any suspicion of power cuts or tariff increases."The Public Utilities Commission of Sri Lanka (PUCSL), the regulator, confirmed that the CEB had not requested yet for an "end-user tariff revision". Instead, it has put forward a proposal to change "transfer prices between CEB transmission and distribution".