Turning passion into a profession
By Duvindi Illankoon
Seven months into operation, Thushanthi de Silva's Podi Brownie Business is a big hit amongst chocolate lovers
View(s):
She might make 'podi' brownies, but Thushanthi de Silva's plans for her business are anything but 'podi'. The entrepreneur behind Thush's Podi Brownie Business is generous and warm with a quirky sense of adventure, she brings to the table a strong business acumen and handy background knowledge; this coupled with her irresistible chocolate concoctions has made her infamous 'Podi Brownies' a hit amongst chocolate lovers.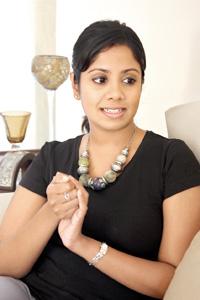 When we catch up, Thush is taking a well-deserved breather from the Christmas and New Year rush. "I was baking tens of batches during the period," she recounts. "It was absolute, utter mayhem." She doesn't mind though-having taken a bow from a lucrative career in marketing last June, to finds herself with quite a bit of free time in which to indulge in her baking creations.
And what a habit it has turned out to be, for the Podi Brownie Business is just seven months in operation and growing stronger. Just ask Thush-she now has a carefully planned day to accommodate the increasing number of orders she receives. While she wouldn't mind a bit of prior notice, she can take orders in the morning and get a batch of delicious brownies to you that very evening. That's the luxury of having a free schedule, she laughs.
Surprisingly, she didn't quit work with plans to start a baking business. Thush was in the leisure sector as a marketing and public relations professional and loved the daily challenge of a working day. And then, listlessness set in. "It was quite simple, really," she tells us. "I quit work to take a breather and have some time for myself." Indulging a wish for independence was all very well but Thush soon stumbled upon a rather unwelcome home truth-independence is difficult without financial security. Sure she had her parents' support but a girl's got to make her own way after all. So she turned a passion into a profession.
"Initially I was a little hesitant…a home baker in Colombo is a well-worn cliché," she laughs. This is why she chooses to trade in brownies; as her Facebook page boldly proclaims, "of all the brownies I've tasted, I like mine the best" To the uninitiated, Thush's brownies may sound fairly ordinary-but it's the sheer science and restraint she pours into them that makes these brownies difficult to beat. Chocolate in moderate doses is the recipe for success when it comes to the Podi Brownies. Anyone who has tried the original Podi Brownie will tell you that there's something very comforting about biting into a square of baked goodness-the rich indulgence of a gooey brownie coupled with the endorphins from a perfectly tame dose of chocolate makes for a formidable formula.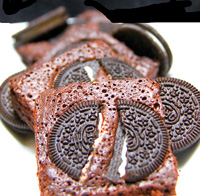 The brownies may be called 'podi' but they come in fairly regular slices. In addition to the original (Rs. 1200 will get you a regular batch of 12 pieces of these, while you can also order half the amount) there's the Blondie (did this make you crack up like we did?), which is the original's antithesis in that there's no chocolate but plenty of nuts, chocolate chips and plain old vanilla gooeyness priced the same as the original. You can try out the Nutty Brownies or the Cookie Brownies made of crunchy, chocolaty cookie dough coated with brownie goodness. If you like your Oreos, you can find them in the Oreo Brownies and if you're the more sophisticated After Eight junkie then the melty, luscious After Eight brownie is for you.
Don't forget to take a swipe at the Red Velvet Brownie, with its swirling edifice of dense red velvet and cream cheese. And you know it can only get better from here- if you order early, Thush will even do a brownie cake for you with chocolate frosting, meringue, strawberries and the works. She also plans to have some goodies for valentines as well so stay tuned to her FB page at facebook.com/ThushsPodiBrownieBusiness to find out more.