Renaissance of Rajarata Hotel
By Sanath Weerasuriya
View(s):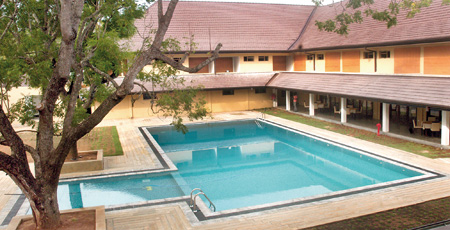 Tucked in the historical city of Anuradhapura, Rajarata Hotel is one of the pioneering hotels in the Cultural Triangle. Started in early 70s, the property represents history and elegance. Located next to the fabled Nuwarawewa Lake, this '101 room' property was closed for more than twenty years due to various reasons. Under the management of a group of strategic investors, the Rajarata Hotel commenced its reincarnation process in mid 2011. The new look Rajarata Hotel was relaunched on 5th December this year.
Speaking to TV Times Travel, Kanchana Dissanayake, the Director Rajarata Hotels limited said, the new management has invested nearly 220milliom Rupees on this resurrection project of the hotel. The new look Rajarata Hotel is branded as four star property and fully refurbished 30 rooms are in operation currently. The rooms at the Rajarata Hotels are varying from deluxe to standard.
'The rest seventy rooms will be ready by early next year.We have carefully designed each room to maximize guests relaxation and we wish to go that extra mile to make you feel right at home' said Mr. Dissanayake. The Hotel offers two specialised restaurants. The main 'Tranquil' serves traditional and intercontinental food with a specialty menu. 'Sweet Crib Lounge' is for sweet delights and cocktails.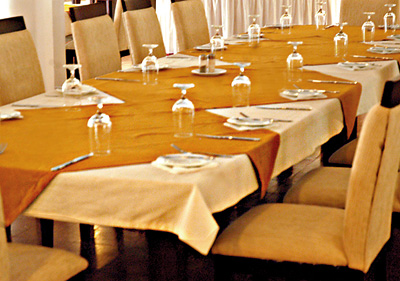 'Restaurant 'Tranquil' provides international and local cuisine especially for Sri Lankan clientele. With an Ala carte includes range of dishes carefully selected by our Executive chef. We have special vegetarian menus for devotees who coming on pilgrimage. Our beverage counter 'Escape' is a major attraction with travellers to the region' explained Chris Berenger, the F & B Manager of the hotel.
'One of our specialities in the restaurant is custom made Ice cream. You can make a choice of flavours and produce you own ice cream and we would give it your chosen name' he added. The Rajarata Hotel also offers major banquet facilities for MICE, conferences, corporate functions and weddings. It can accommodate 250 pax.  'We lend our shoulders to customers on their wedding plan to make this day magnificent in their life by offering services at an extra cost. Not only are the venue and the cuisine, but wedding car service, decoration, music, and registration facilities on the card' said Mr Berenger.
Apart from the Sri Lankan cuisine and the homely atmosphere, 'Rajarata' is an ideal place for travellers to explore the area. Pilgrims can use this resort as a base for Buddhist pilgrimage to visit areas in Anuradhapura, Polonnaruwa and in the other places of the Cultural Triangle '. It is also a centre point for nature and wildlife lovers. Wilpattu , Ritigala, Minneriya and other attractions such as Madhu Chruch and Thanthirimale are just one to two hours drive away from the Hotel.
Apart from the Sri Lankan Clientele, Lake Side is now busy with tour operates to get the overseas travellers to the Ancient city.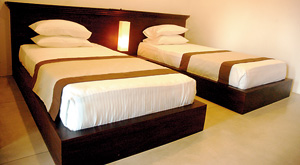 History of Anuradhapura has been the back bone of Sri Lankan civilization. We at Rajarata intended to take you on journey to have a true experience of this rich history, with the help of a specialist in history and Archeology. Our programme "Footsteps to the Past" will include a guided tour on all the religious and irrigational sites which enriched the first capital city of Sri Lanka' said MD Kanchana Dissanayake.
Room rates will differ according to room chosen and the season.
Call 025 2 030 94 ,077 0029 160 or
Corporate Office: 11 2 030 700 for more details
Pix by Neil Siriweera