They will light up 'Bright Spark'
Vinusha Paulraj meets some of the exciting new designers who will open next month's HSBC Colombo Fashion Week
View(s):
They shone so bright that they couldn't escape the notice of the organisers of HSBC Colombo Fashion Week (CFW) 2014 and Ajai Singh and his team are quite delighted to present these designers on the big stage. Nine promising young designers will make a grand entrance at the Bright Spark segment of CFW which begins on February 2 at the Colombo Hilton. The excited young designers are busily prepping and upping their game as they unanimously feel that though it was always a dream to show at CFW they never expected the dream to materialise this early in their careers.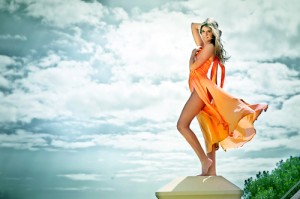 "I don't want to cut up people! I want to cut up fabric," was 23-year-old Shanika
Samarakkody's view when her father wanted her to be a doctor. Interestingly her father too designs shirts for well known brands and Shanika has lived among fabric and design equipment all her young life. "My father is one of my biggest influences and that's why I love designing what I design" says the designer who creates menswear.
Though she trudged through Bio and other science subjects for her A' Ls Shanika had her way and enrolled at the Lanka Institute of Fashion Technology (LIFT) and then moved to the Raffles Institute in 2010. Currently a final year Fashion student she gravitates towards neutral and dark shades when it comes to colours but admits, "I absolutely love playing with textures and fabrics". For her collection to be showcased at CFW Shanika is using fabrics like linen, cotton and tulle, practical choices to be enjoyed even in a Sri Lankan climate.
Quick to spot the gap in the market when it comes to Sri Lankan designers designing for men Shanika says, "I feel men too like to dress up a little and they should be given that chance." Nervous but very proud that CFW chose her to be showcased in the Bright Spark segment she hopes to live upto expectations, maybe later develop a label and please her toughest critic – her father.

"I usually let Shanika do all the talking for me," laughs Jayani Perera, one of the other young designers picked by HSBC CFW to show her work in the Bright Spark segment this year. Classmates and good friends with Shanika she says "I was very proud that both of us got selected, we never expected it."
Jayani who is from Kiribathgoda has always been interested in the detail. "I love doing handicrafts, sketching and basically anything pretty and creative," she shares. Noticing her artistic ability Jayani's mother enrolled her in art schools at an early age. A student of Sirimavo Bandaranaike Vidyalaya she studied arts for A Levels and indulged in pastimes such as cross stitching, painting and sketching during her free time.
"My initial thought was that fashion design was all about sketching," she says, "but when I came to Raffles I realized that it's much more
than just what you put down on paper." Jayani who enjoys nothing more than doing intricate beading, embroidery and making embellishments, designs clothes for women and loves wearing her own designs. "I only design something I would wear."
'Shine On! – A Little Glitz and a Whole Lot Of Glam' her collection is inspired by couture fashion. Her choice of materials and colours too will profess luxury and elegance -materials like raw silk and velvet in glittery, gold and black tones.
Currently a final year student of fashion at RMIT in Australia, Heshan De Silva, 26 has lived overseas for most of his life and made a splash with his latest swimwear collection. "I left Sri Lanka when I was about 18 and was in America until about three years ago," says this 26-year-old.
Coming from a long line of investors in the garment industry, Heshan too always knew where he belonged. "Initially I started out my degree in Fashion Retail Management." Getting a chance to be backstage at the New York Fashion Week gave him a new perspective. "My lecturers wanted me to make use of the chance and go. I got to help out backstage for Marc Jacobs' line and it was most definitely the best thing that happened to me," he recalls.
Firing a shot in the dark in 2009 he staged his first fashion show in Sri Lanka. "I really had no clue how to technically design something, I just drew it out and got people to make it," he admits, but the taste of it left him longing to enrol in a fashion programme. With his studies at RMIT in Australia he feels confident that he has "the knowledge to make a garment and the technique behind it."
Heshan who loves the colour orange says that most of his creations under his label 2202 are influenced by foreign design but interestingly for CFW he draws inspiration from "a kind of Katussa which is endemic to Sri Lanka." The reference to the chameleon will reflect in his colour palette and signature style of mixing patterns of fabric in one garment.
As a menswear designer Heshan notices the lack of attention Sri Lankans pay to a "proper fit". "People always go for shirts which are too big and I just don't know why" he wonders. Aspiring to develop his label into a luxury brand he says "I find inspiration from anywhere be it music, architecture or even a person, I even have a collection inspired by Freida Kahlo," he smiles. The collection he hopes to stage at CFW is inspired by the "architecture and sights of the city of Melbourne."
On the verge of graduating from the University of Moratuwa under the design programme offered by the Faculty of Engineering, Thakshila Weliange, 26, is from the village of Giragama in Pilimathalawa and her background has been part of her inspiration. Living in a house built in the 1920's the lines and design of its architecture is something that still fascinates Thakshila who goes back home every weekend to spend time with her family and four dogs.
Aesthetically inclined, she studied at Hillwood College and Kandy Girls' High School but says though she did commerce subjects for her A' Levels, her heart wasn't in it. Losing her father before entering university propelled her to be bold and pursue exactly what she found joy in, which was "playing with fabric and paying attention to detail."
Drawing inspiration from the country's culture and myth, her collection "Agasthie" aims to reflect the serenity and mystic nature of Sri Lankan culture and beliefs. The collection will feature unique patterns derived from cultural elements in a contemporary context. "It's all about minimalistic glamour and a different interpretation of culture entirely," she discloses.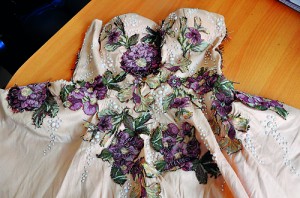 "This collection is dedicated to my father, Jayasena Weliange," Thakshila says, deeply grateful for everything her parents have done for her.
Another product of the University of Moratuwa is 24-year-old Udaya Madusanka Wickramasinghe. Originally from Kurunegala, he went to school there and never really thought much of fashion in his schooldays. He graduated from the Faculty of Architecture's design programme and experienced HSBC CFW for the first time last year out of sheer luck. "I was in a lottery draw and my name was picked. I had won some invites for CFW and I went." That glimpse of the glamour and professionalism prompted a desire to one day see his work on the ramp.
"To be honest, the academic process of designing intrigues me more that designing itself," says Udaya who has just under three months of working experience. His signature style is involving Sri Lankan crafts in his work. "Even for the collection I made for my graduation I used Sri Lankan hand knitted fabric working with the coastal knitting community," he says. His concept for CFW is "Green Knitting."
"I'm more interested that through fashion I get to solve social issues, and I'm very interested in how fashion can uplift other segments of society like the economy," says Udaya who promotes responsible and respectable values in the industry. To this designer who will be showcasing winter wear customized to suit Sri Lanka nothing is more rewarding than doing what you love and contributing to society. "I find it amazing that I can make money and so can the community," he smiles. "I really enjoy customizing fashion for the community."
He uses matte colours and heavy materials that are good for maintaining structure, and will showcase a modified version of his graduation collection at CFW.
The other designers in the Bright Spark segment are 25-year-old Deepthi Ganepola who will present a casual collection based on the concept of the "3Rs"- reduce, reuse and recycle; Nusky Aduham, 26, who will introduce one of his innovations, "3D weaving" in a collection of women's wear; Chamindhi Abeywarna from the University of Moratuwa with her upbeat and edgy street wear collection and Nethmini Senananda, 24, of the University of Moratuwa whose collection of batik garments is a study in flamboyance.