Teledrama of the Week
View(s):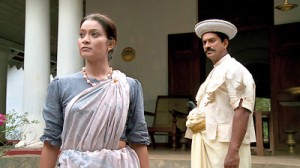 Jan. 20, Derana TV, 7.30 pm 'Swarnapali' reenact the Great Rebellion 'Swarnapali', a mega teledrama woven around the historical tale set in the backdrop of the Great Rebellion of 1817–1818 which is also known as the 1818 Uva-Wellassa Uprising, directed by Tikiri Ratnayake will be telecast every weekday from Monday to Friday from January 20 on Derana TV.
Based on some of the real historical incidents that took place in the mid 1980s, the teledrama is set around the 1848 rebel.
Screenplay written by award winning playwright K. B. Herath, the teledrama is played by Himali Siriwardena, Roshan Pilapitiya, Janak Premalal,, Hyacinth Wijeratne, Shashiranga Wickremasekara, Chris Harris, Gamini Ambalangoda, Berty Susiripala, Rilani Ramesha and Udara Ranasinghe in the main cast.
Produced by Sama Ratnayake, camera is handled by Aruni Priyankara, editing is by Manjula Malwatte, art direction by Chrishantha Ratnasiri, make-up by J. Suranimala and the assistant director is Gamini Silva.