Rukshan all set to entertain his fans again
View(s):

Veteran musician Rukshan Perera hardly gets an ordinary greeting from his fans. "Rukshan! What time is it?" is how many choose to say hello, inspired by his jazz funk original of the same name.  "I simply can't get away with not performing certain songs like 'What time is it,'" laughs Rukshan as he sits down with the Sunday Times to talk of his fourth annual concert, Rukshan Perera Live In Concert; a Concert For Reconciliation, next Sunday.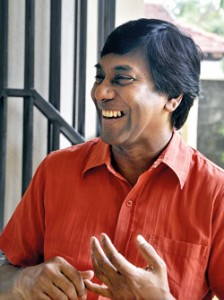 Enjoying nothing more than connecting with people Rukshan composes songs that audiences can relate to. His songs 'Coming Home to you' and 'Sri Lankan Blues' express how much he missed Sri Lanka in his years abroad. Having performed them abroad many times he shares, "Many Sri Lankans in the audience tell me they got goose bumps!"
"The entire concert will feature my original compositions," says Rukshan, who is putting on this show for the benefit of the Unity Mission Trust (UMT), a non-profit organisation working to promote unity among schoolchildren across the country. Leaving behind a life of 30 years and his children abroad Rukshan says that he "always wanted to come back and settle down in Sri Lanka." Admitting that "It was a very hard decision to leave behind the children" he took the end of the war in 2009 as his cue to come back. Returning home Rukshan celebrated the end of the war the way he knew best – with the song 'One Land For All'.
"I always believed in reconciliation and I understand how important it is," he shares. Being impressed by the work of the Unity Mission Trust he even leads the entertainment sessions at the Unity Camps which bring together children from the former war-torn areas with children from other parts of the country. "I go into teacher-mode," he laughs, recalling teaching the children of multi-ethnic backgrounds some old English songs. "I have no doubt that I'm doing the right thing when I see the children on the last day of camp, confidently singing and dancing to the songs I taught them," he smiles. Being moved by the active role the UMT is playing in reconciliation Rukshan even plans to dedicate two special original numbers to the Trust.
Motivated by stories of people and places around him Rukshan enjoys writing songs of purpose and depth. "I do have a few fun numbers but when I'm inspired to write a song, the words and melody just flow," he says, be it writing a song for those battling cancer, or a child's letter to his imprisoned father, 'When are you coming home?'
Perhaps one of the more popular tribute songs is one he wrote for the young Pakistani activist Malala Yousafzai. "Umaria will be singing this song," Rukshan says. The tribute to Nelson Mandela, 'Meaning of Justice' is to be rendered by the rich tones of the De Lanerolle Brothers who according to Rukshan "have always supported this concert." Choro Calibre, Rajitha, Sarith & Sunith, the Little Sopranos, the Colombo Brass Ensemble and the Revelations are the other leading acts that will be a part of this evening while Harsha and Khrome will provide musical backing for Rukshan.
The concert will have a fusion of both English and Sinhala songs, composed and or arranged by Rukshan, so audiences can expect his signature fusing, scatting and harmonizing and even whistling. "I may even throw in a few surprises too!" he laughs. Rukshan Perera Live In Concert; A Concert for Reconciliation will be on January 19 at 7 p.m. at the Bishop's College Auditorium. Tickets priced at Rs. 3,000, 2000 and 1,000 ( reserved) and Rs 750 and 500 ( unreserved) are available at the Park Street Mews and Commons. For more information call- 0773057220.