Leopards roar in Melbourne
View(s):

'Blue Leopard' is the latest Sri Lankan band to be launched in Melbourne, Australia in 2014. Melbourne has been inundated by karaoke and midi-file musicians, who have messed up the music scene with their so called 'live music'. There are quite a few very good bands that are in the entertainment field, but are hard to come by owing to the growing demand. The highlight of most events is the steady influx of visiting bands from Sri Lanka and solo artists from Sri Lanka.  Coming up with a solution to this problem, Servatius (smokey) Jansz ventured into his own band. Sound Engineer by profession, Smokey wanted his group to sound professional and real, without going for an artificial music.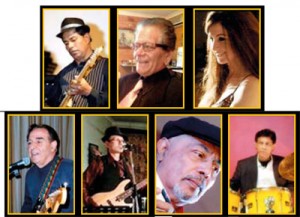 This group of very experienced and versatile musicians has been brought together by Smokey Jansz, who has been promoting musicians from the late fifties, initially in Sri Lanka under the guidance of the late Donavan Andree. He was involved in many classic floor shows such as 'The Duke Ellington Orchestra' performing in Colombo. He was the one who also introduced Tony Brent to perform in Colombo for the very first time, and this led Tony Brent to perform around the Globe. He has been involved in the promotion of the very best of Sri Lankan artistes such as, the late Cliff Foenander, Erin De Selfa, Bill Forbes and numerous others, who gained international fame.
Since migrating 'Down Under' he continued to do what he loves best, promoting musicians. He wasinvolved in introducing the late Sammy Davis Jnr. to Australia, and numerous other singers of repute. He is very keen to visit Sri Lanka bringing musicians from Australia to Sri Lanka. 'Blue Leopard' comprises band leader Lou Grimes on guitar and vocals, Monika Ciura- Percussionist/ lead vocals, Ravi Silva on keyboards / guitarist and vocals and Julian Packeer on drums/percussion /vocals and he is the Media Manger of the band. Shyane Fernando is the bassist of the band, while Raj Dassanayake plays drums.
Lou who originates from Malta has been in the music scene for more than three decades. He once had his own Creedence Clearwater Revival Tribute Band for seventeen years. He is at present heavily involved in writing the music chores for the rest of the musicians in Blue Leopard. Monika, whose of Polish descent brings a lot of experience in the vocal field being a voice trainer & a piano teacher, she has a great selection of songs of both past and present.
Ravi Silva is also known to the vast number of Sri Lankans in Victoria, NSW. Ravi started his music career, playing drums. He is well presented, and is a versatile professional musician who also plays lead guitar / keyboards. Julian has been frontline singer for almost forty five years. He was introduced to music by his parents, who encouraged him to enter the Rotary Club Talent Quest in Nuwara Eliya, and the Observer Talent Quest also in Nuwara Eliya. At the young age of seventeen he was very eager to impress the young ladies who were on holidays in Nuwara Eliya in the well know 'April Season'.
He continued to sing as a guest artiste with every band that visited his home town. He has sung with bands such as the Stargazers, Jetliners, Esquire Set, Sam the Man, and then he took to singing as a professional entertainer, in night clubs in Colombo. He joined 'Genuine Spares', at Blue Oceanic Hotel, 'Solid' Browns Beach Hotel, Seashells Hotel, and Blue Lagoon and ended up with his own band named 'Love Machine'. He also appeared on TV and Radio frequently and has continued to his music in Australia. Hé formed a band named 'Cat'seye' and the 'Blue Leopard Trio'. He has now teamed up with Smokey Jansz his manager of almost eighteen years, to launch 'The Blue Leopard' Tribute Band, playing covers of all renowned artistes.
He's now in the process of launching his very first gospel CD named 'Agape' through his Christian Ministry 'Crown of Thorns'.Shyane comes from a very talented family of musicians and has been a self taught bassist from the age of seventeen. He has played with 'Daya & the Clan' 'Into Groove' and at present a South African band known as Rhythm Tones. He brings heaps of funky bass tones and amazing vocal ability to 'Blue Leopard'!
Raj who is a well respected musician in the Sri Lankan music field was a founder member and band leader of the 'Pioneers' and also played as a session drummer, percussionist for most recording artists both in Sri Lanka and Melbourne, Australia. He was involved with the legendry 'Desmond Kelly' as a session drummer; he has also performed with Desmond de Silva and Daya Silva and he has been a free lance drummer and is highly sought after by bands for a reputable fill in drummer at most dinner dances in Melbourne.
According to Servatius, if everything goes well, the band 'Blue Leopard' will be in Colombo for this years Christmas season.