Koluu's 'Spice it Up' at 7Stories Ranjanas
View(s):

Rising 7 stories high, 7Stories Ranjanas, stands tall attracting the eye of all passer-by with its intricately adorned exterior while the small glimpses of exquisite items displayed through the windows beckon one to step inside to explore. Each floor has its own story to tell and as one walks through, a tale of choice, quality and allure unfolds for the whole family to indulge in. Sri Lanka's celebrated chef, launched his spice line, 'Spice it Up' last week at the Seven Stories 7'O' Fresh supermarket.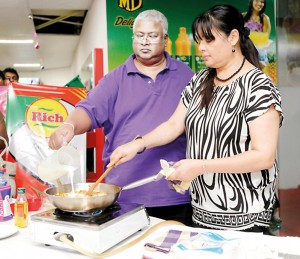 Now customers who step into Ranjanas can easily purchase the range of Spice it Up! spices and whip up scrumptious Sri Lankan dishes, Koluu's way. Fashioned as a shopping mall that is a one-stop-shopping destination with a single entry and exit point, a shopper's journey to unlimited options will start from the basement where the 7'O' Fresh supermarket, a fully fledged supermarket, is located. Aisles filled with goods are neatly stacked and spaciously arranged while imported Indian and Arabic food items are available for purchase as well while a *fresh fish section, newly opened, is also available.
Fashioned under the vision of Dr D Venkateshwaran, CEO/Director of Ranjanas and S/O Deshamanya K. Doraisamy, group Chairman and Veteran businessman, the whole concept encompassing this wonderful shopping mall has come alive with their dedication and passion. As Ranjanas prepares to step into the year 2014, many new features are to be unveiled to better cater to their customers. Some of these plans include  opening a fast food section with Kebab Turki Baba Rafi—the world's largest chain of kebab from Indonesia, a pharmacy, foot spa, gold jewellery and a cinema hall around 100 seats that will screen DTS Hindi, Sinhala and Tamil movies from the 1980's and 90's to name a few.
Kebab Turki Baba Rafi has more than 1,001 outlets worldwide and their venture with Ranjanas marks the first for Sri Lanka. As the new year progresses, customers of 7Stories Ranjanas will be in for a treat as their selections are broadened to comprise all that a family can wish for.