Kala Pola comes alive again
View(s):

'Kala Pola 2014', Sri Lanka's annual Art Fair – unveils in Colombo once again in a riot of colour, on Sunday 26 January. It will open at 8.00 am and continue for fourteen hours non-stop until 10.00 pm the same night.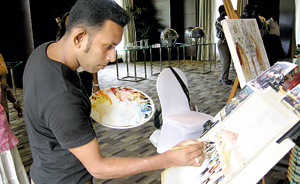 Kala Pola has undoubtedly grown into a rich cultural event over the past two plus decades and is today a much-awaited and not-to-be-missed event in Colombo's annual cultural calendar. Presented since 1993 by The George Keyt Foundation, Kala Pola has continued to enjoy the generous patronage and valued partnership of the John Keells Group over the years under its corporate social responsibility programme which is committed to supporting the development and promotion of the arts and culture of Sri Lanka.
'Kala Pola began in 1993 drawing inspiration from the open-air summer art fairs in numerous European capitals such as the well-known Montmartre in Paris.
'Over these-past two decades it has been a successful catalyst in increasing a greater appreciation of art among the public of Sri Lanka' said the Chairman of The George Keyt Foundation Cedric de Silva at the press conference held last week at Cinnamom Lakeside.
'The numbers keep growing rapidly with each passing year. This year we expect an even larger turnout of artists and visitors. Kala Pola not only fosters the creation and appreciation of good art, but it is also a lucrative source of income for the exhibitors. We are thankful to the John Keells Group for its invaluable patronage and the tremendous source of strength it has been to us during these two decades' de Silva added.
'Kala Pola' has been a vital platform for both artists and sculptors to launch and build their careers. It creates a platform for them to showcase and market their work to a steady clientele and thus promote art as a lucrative and professional career. Kala Pola has been the launch pad where several artists have launched successful professional careers and some even in the international arena. It parallely provides a venue for artists to learn from one another, thereby developing and enhancing a Sri Lankan art (genres, styles, etc.). Given the large audiences Kala Pola has attracted over the years, one now sees more original art adorning the walls of homes and offices both in Sri Lanka and overseas.
Kala Pola 2014 is free of charge and open to the public as it has always been in previous years. A major tourist attraction, it will attract thousands of visitors from all parts of Sri Lanka and from different parts of the world. They will all gather over fourteen hours on Sunday 26 January to indulge in its signature ambiance of bonhomie, camaraderie and take in the infectious feeling of an exciting summer art-fest right in the heart of Colombo, Sri Lanka.