Catering to a sweet tooth
By Duvindi Illankoon
Stocking over a 100 varieties of confectionery, Yum Yum Fine Foods has found a gap in the market and literally filled it with candy
View(s):
Walking into Yum Yum Fine Foods is like being five and let loose at a candy store again-literally. Aisles of rainbow hued sweet jewels beckon and you're drawn almost magnetically to their side. Such is the mysterious magic of candy; whether you're five or 50, Yum Yum will unleash the inner sugar rush in you.
It's still in its early days, but Yum Yum already has a growing and faithful clientele of kids and adults making the trek to their store in Kawdana Road, Dehiwala.
Yum Yum is the only shop in Sri Lanka dedicated to confectionery at the moment, says Ahsab Ilyas who owns the store. Ahsab knows what he's talking about-last year he moved back to Sri Lanka from Malaysia, where he ran a similar outlet with his dad. Ahsab's family in Sri Lanka, regular recipients of the duo's fantastic collection of candy, were the first to suggest a Sri Lankan franchise. "We thought 'why not?'" says the young entrepreneur. A few months later, he was in the country for his nuptials and decided to stay on to make that idea a reality.
Yum Yum stocks only the finest quality candy, with the lion's share imported from Europe. The EU's stringent regulations on artificial colouring and preservatives means confectionery is made with the minimum of chemicals, with a focus on using natural substances. "Let's face it-candy is never going to be the healthiest thing on the planet," laughs Ahsab. "But we're definitely going to try and get as close as we can."
The shop works on a self-service basis. Each confectionary is displayed in a clear container with paper bags and little scoops so you can pick and mix as you like. For Rs. 260 you can get 100g of whatever combination you fancy-the store has over a 100 varieties of confectionery for you to choose from. Indulge in marshmallow ice cream (a wafer with mallow topping and a centre oozing with strawberry jam) or lemon-flavoured bubble gum crafted into tennis balls. Chewy Italian toffees might offset the jarring acidity of the flavoured sour belts and multi-coloured fruit loops will fit niftily onto swirly liquorice sticks. Pick a cute gift for your loved ones with mini marshmallows, jellybeans and gummy bears. The possibilities are a multitude, really.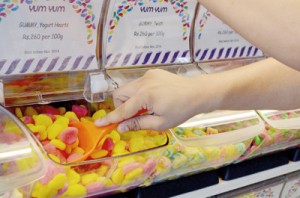 For Rs.480, indulge your chocolate-y sweet tooth with 100g of their selection of premium chocolates. Tiramisu flavoured Belgian chocolate, choc yoghurt coco rocks, chocolate coated almonds-they're all there, ripe for the picking. Mix them with a selection of nuts imported from the Middle East or preserved fruit like mango and papaya, and you've got the makings of a perfect evening in with a book or movie.
While the focus is on the confectionary, Yum Yum also stocks a fair selection of baking ingredients like tart shells, chocolate chips and even things like fudge sauce, fizzy drinks and iced tea -most of which you're unlikely to find anywhere else. We also spotted tubes of Pringles going for a fairly reasonable amount, in flavours we haven't really seen in supermarkets. "We're able to give customers what they want at an affordable amount because we cut out the middlemen," explains Ahsab. With his father Ahsab travels regularly to Europe to replenish and add to their stock, dealing directly with manufacturers.
They also take orders for events like parties and weddings. More and more people are choosing daintily wrapped bundles of candy as favours and really, who can argue with that logic? Yum Yum seems to have found a niche market in Sri Lanka, catering to the sweet tooth in the young and young at heart.
You can find the store at No.21, Kawdana Road, Dehiwala. Visit www.yumyumfinefoods.com for some drool-worthy pictures.