Award winning photographer on tour with Cinnamon Nature Trails
View(s):

Cinnamon Nature Trails, the eco-tourism and excursions arm of Cinnamon Hotels & Resorts had the privilege of hosting the award winning photographer of CNN and The New York Times, Jon McCormack, on a leopard safari in Yala recently. The Yala national park, having the highest density of leopards in the world was the overriding factor for his visit to Sri Lanka, considering his current interest is in the Asian Leopard.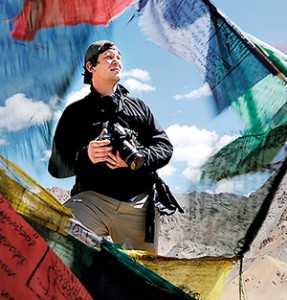 Jon McCormack is an award winning photographer based in California and his work has been published by international news organizations including The New York Times, International Herald Tribune, Wall Street Journal, Africa Geographic, The Guardian, CNN, NPR and The Telegraph etc., whilst his work has been exhibited at the Royal Geographic Society in London and the Yosemite Museum in California.
"I am delighted to be working with this celebrated photographer Jon McCormack whose extensive work in Africa has been published across the world, his keen interest on community assistance and conservation through his involvement in the Kilgoris project in Kenya, makes this visit more meaningful to Cinnamon Nature Trails"-said Chitral Jayatilleke-Head of Cinnamon Nature Trails, Cinnamon Hotels & Resorts.
Jon is the vice president of Software Development, Lab 126 in California and a fantastic Nature Photographer whilst also being the Co-Founder of the "Kilgoris" project in Kenya assisting Masai children on IT education. His passion for photographing leopards brought him to Sri Lanka and Cinnamon Nature Trails took the pleasure of showing him the Sri Lankan Leopard. Jon and Cinnamon Nature Trails photographed 8 leopards over three days and interestingly, Jon mentioned that he's photographed 5 leopards over a span of 12 years in Kenya and the experience at Yala exceeded all his expectations. He was also deeply fascinated by "Project Leopard" – a community assistance program spearheaded by Cinnamon Nature Trails based at Cinnamon Wild and donated 4 cattle pens towards the local community assistance effort.
Jon McCormack dedicated an entire page on his blog about the leopards of Yala and some of the notable comments he made were, "I spent the weekend with the extraordinarily talented Chitral Jayatilake of Nature Trails and the leopard sightings we had were beyond belief.. If you decide to go to Yala, I'd recommend staying at Cinnamon Wild. The accommodations are lovely and the naturalists are world class (don't just take this from me, the BBC's Natural History Unit uses them when they're in town)."