Big log in Uncle Sam's eye
View(s):

My Dear Stephen Rapp,
I thought I must write to you when I heard that you were visiting our Paradise Isle, as Uncle Sam's 'ambassador-at-large' trying to find whether war crimes were committed when our war against terrorism ended almost five years ago.I am not sure whether you are aware, Stephen, but you are the latest in a long list of visitors who are boosting our tourist arrival statistics by visiting us for the same reason. With chaps like you, it is no wonder that our Tourist Board and the hotel industry are making a tidy profit!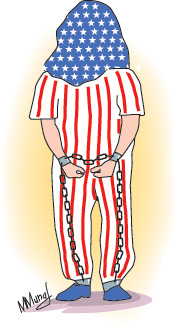 Why, that Pillay lady was here. Then there was that Cameron chap who pretended he was here for the Commonwealth summit but in reality was electioneering in the North. Then we also had a pretty young Canadian MP trying to win re-election for herself by pretending she was under house arrest!
They tell me you are here because Uncle Sam wants to move yet another resolution against Paradise Isle when the Human Rights chaps meet in a couple of months. Obviously, you want to be able to tell the world that you have been here and seen for yourself what went wrong five years ago.
Stephen, we all know that Uncle Sam is the most powerful country in the world these days so it believes that it can pretty much do what it wants. If that is what you want to tell us, why don't you just be upfront about it, instead of trying to lecture us on human rights and war crimes?
Stephen, if you are Uncle Sam's 'ambassador-at-large' for war crimes, why don't you also visit Guantanamo Bay closer home in what is part of Cuba? There, surely you can you can learn a thing or two about war crimes and human rights violations, not to mention detaining people without trial and torturing or waterboarding them?
If that is too closer to home for you maybe you should take a stroll in Afghanistan or Pakistan and wait for the next drone attack. Who knows, you might even tell us that you have discovered a drone that selectively kills terrorists without killing or injuring a single civilian!
Or, if you are one of those nostalgic people who yearn for things past, why not drop in to Baghdad where George and Tony waged war against Saddam more than a decade ago? That country is still burning and dozens are dying daily while George and Tony are living it up in their retirement.
But no, Stephen, it seems places such as Guantanamo Bay, Afghanistan, Pakistan or even Baghdad do not interest you. Instead, you want to pry in to the North of Paradise Isle to find out how the war ended and what we are doing about it five years later.
I know why — you need to find someone small enough you can bully. Why, recently when Barack tried to start another war in Syria, he ended with egg all over his face because Russia and China told him that he cannot use the 'they have chemical weapons' excuse again like they did in Iraq ten years ago.
Then when Uncle Sam tried to bully an Indian diplomat by strip searching her and then wanting to arrest her, you had to ultimately back down and let her return to her country because Mother India was tightening the screws on all your diplomats over there.
That reminds me, Stephen, that our giant neighbour agreed with you in the last two years when you moved resolutions against us at the United Nations. With this huge diplomatic row between you two big bullies, it will be interesting to see what Mother India does this time around about your resolution!
I was told that there were demonstrators protesting against you near Uncle Sam's embassy the other day. We are a democracy, you know, and we protest about anything and you have nothing to be worried about-unless you are demanding clean drinking water, that is!
But what takes the cake is your embassy showing pictures of yourself with your ambassador lady visiting the North where you say that you were visiting the site where "hundreds of families were killed by Army shelling". Surely, your slip is showing, isn't it Stephen?
If you have already made up your mind about what happened, maybe you should just pack up your bags and leave instead of wasting your precious time here? After all, would you allow one of us to take pictures outside Guantanamo Bay and say 'this is where Uncle Sam tortures suspects'?
Yours truly,
Punchi Putha
PS: Just so you know, Stephen, we have won our war against terrorism while you still haven't. I am not saying all is well with Paradise Isle — it certainly isn't and there are many changes that we would like to see — but still, I don't think it is Uncle Sam's business to tell us what to do and what not to do!