Alleged killer Kamalendran refuses to quit NPC posts
View(s):

Eelam People's Democratic Party member and Northern Provincial Council Opposition Leader Kandasamy Kamalendran has rejected a request by his party boss Minister Douglas Devananda to resign from his office as a councillor and as NPC opposition leader. Mr. Kamalendran, now in remand custody, has said he wants to remain in office and asked his leader to arrange for him to be escorted to attend meetings of the council. He made the same request through his lawyers to Kayts Magistrate Lenin Kumar. The court has called for a report on his security before considering the matter.

He is seeking the privilege on the basis that he has still not been convicted by a court of law. Mr. Kamalendran is accused of the murder of the Delft Pradeshiya Sabha Chairman Daniel Rexian. The late Rexian's wife Anita is also in remand custody for alleged complicity in the murder of her husband.In the light of a request for leave made to Northern Province Chief Minister, C.V. Wigneswaran, the Council granted Mr. Kamalendran time till January 27.Minister Devananda has shut down EPDP offices in some of the outlying islands of the Jaffna peninsula and is 're-organising' them.
---
Ekanayake wants special hell for corrupt politicians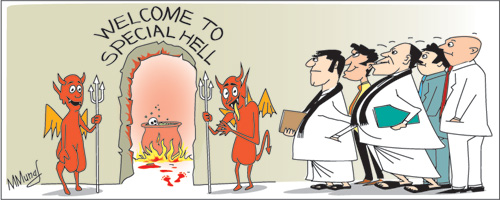 For politicians to speak against corruption is almost like the devil quoting scriptures. Yet, there are exceptions. One such case is Nandimitra Ekanayake, Deputy Minister of Education. He proposed that a separate "hell" should be set up to incarcerate politician bribe takers. Of course, that is not a subject on which the Cabinet can take a decision like setting up multi-billion rupee high altitude sports complexes or luxury amusement parks. Such a matter, one would say, is in the hands of God.
Speaking at a meeting connected with a road construction project in Dodamdeniya, Matale, Mr. Ekanayake said some politicians come up with a development project together with the name of the contractor who should undertake it. Though he was a politician, too, he said he had never resorted to the practice of naming a favourite contractor.
"I don't even know the contractor who undertakes construction work. At present there are politicians who name the contractors and everybody knows why this happens. As a result of this real development work in the country has being hampered," he said.What Ekanayake says is no secret but one that is never spoken out by politicians from the ruling coalition. This is one of the reasons for the defeat of budgets in UPFA-controlled local councils. Must one say that these local bodies have become breeding grounds for local level corruption that is a vignette of the larger corruption at national level?
---
Diplomatic puzzles as President visits Palestine
Everything seems foreign to some of those in the top echelons of the External Affairs Ministry. They were unable to explain another of those non-traditional diplomatic practices that are fast becoming a vogue at the EAM. Members of President Mahinda Rajapaksa's entourage who visited Palestine this week found that a top diplomat there was not present. Was he recalled, they asked. Usually if his tour of duty expired, the practice would have been to ask the incumbent to stay over till a Presidential visit is over.
Instead, making the situation curious was an order from the EAM asking the head of a Sri Lanka mission in what is dubbed as a "truly Asian" country to go over to Ramallah, Palestine. He was asked to make all the arrangements for the presidential visit.EAM sources say that an envoy accredited to one country is not tasked to undertake assignments in another when there is a head of mission already in place. However, in Sri Lanka's EAM, anything goes and many a record is being created.
To mention just another — the term of a head of mission, which is usually three years, has been extended to five or more. In some capitals, instead of promoting Sri Lanka, some of them appear to be promoting themselves and their business interests.
---
Long queue of senior  officers outside Police HQ
There was an unusually long queue at Police Headquarters this time on New Year 's Day.
They were all senior officers clasping sheaves of betel leaves waiting to wish Police Chief N.K. Illangakoon a happy New Year.
For those in the outstations, Mr. Illangakoon sent his greetings and urged them to work harder this year.
---
Whisky quip at CBK's New Year bash
It was a year-end party hosted by former President Chandrika Bandaranaike Kumaratunga at the Mount Lavinia Hotel. The sleuths were there to see what was going on. However, that did not worry either the host or the guests.Among the guests were her friend and now UNP Political Campaign Secretary Mangala Samaraweera and Tamil National Alliance Parliamentarian M.A. Sumanthiran.
Some around Samaraweera questioned him about the recent theft at his picturesque residence in Gorakana, Panadura, overlooking the Bolgoda Lake.
A lawyer wanted to know from Samaraweera whether the goods were returned. He replied the goods were still at the police station. Shot back the lawyer, "Laptop eka nam nathath kamak nehe. Whisky bothal tika hambaunoth loku deyak. (Let the laptop go, if we can get back the bottles of whisky, that would be great)".
---
No multi-storeyed complex for Mervyn
Public Relations and Public Affairs Minister Mervyn Silva has failed so far to win government approval to construct a multi-storeyed complex to house ministry offices, including his own. He has been told to continue to remain in the existing premises for which the Government pays a monthly rental of Rs. 950,000. He will have to do so for the next two years.
---
Guess what this Minister got  for New Year
Some of the guests felt it was a 'sick joke' but Dayasritha Thisera, Minister of  State Resources and Enterprise Development, took it in his stride. 
He had invited many guests for a party to usher in the New Year. Among those were two colleagues, Aviation Minister Priyankara Jayaratne and Coconut Development Minister Jagath Pushpakumara. They had brought along a neatly wrapped gift.
The party was over and days later Thisera telephoned one of his colleagues. "Machang bohoma isthuthyi umbe thaggata, mata ayeth oney unoth ubalata kiyannam (Thank you very much for your gift, I will let you know if I need more)," he said. The gift, it turned out, was a packet of sanitary pads.
---
Presidential polas at three places
The Government will spend Rs. 227.33 million for the construction of polas (fairs) in Padukka, Delkanda (Nugegoda) and Embilipitiya.
The proposal was made by President Mahinda Rajapaksa, who is also the Minister of Defence and Urban Development.
Interestingly, the proposal had to be examined by the Ministry of Finance and Planning before the go-ahead was given. President Rajapaksa is also the Minister of Finance and Planning.
---
2012 Pongal offer still haunts MR
President Mahinda Rajapaksa is to host a Thai Pongal function in Nuwara Eliya on Tuesday.
Arrangements for the event are being made by Minister Arumugam Thondaman, leader of the Ceylon Workers Congress (CWC).
Two years ago, the President hosted a Thai Pongal function at 'Temple Trees'. Among those present was the visiting Indian External Affairs Minister, S.M. Krishna. The President made a remark that he was willing to give "13 plus", a reference to even more powers than what the controversial 13th Amendment to the Constitution gave in terms of devolved powers – a remark that has come to haunt him ever since.
---
NPC's battle with Governor hots up
The tussle between the TNA-controlled Northern Provincial Council and Governor G.A. Chandrasiri has intensified.
The Council adopted a resolution this week calling for the cancellation of recent appointments made by retired Major General Chandrasiri.
It is not immediately clear how the Council would give effect to the resolution. The appointments in question, the Governor has argued, were in keeping with the legal powers he enjoys.