SriLankan CEO urges critics not to compare apples with oranges
By Duruthu Edirimuni Chandrasekera
View(s):
One of the major issues national carrier SriLankan Airlines faces is that its critics view it in isolation when dishing out the brickbats.
"It should be compared to the industry that it's in," says Kapila Chandrasena, Director/CEO SriLankan.
Explaining some statistics which the airline's detractors often ignore or aren't aware of, he says that aviation is the third largest global industry at $539 billion behind food and chemicals. Its contribution to the global economy is 3.5 per cent. "This GDP contribution doesn't happen as a direct contribution; it's a multiplier effect as it has direct impact on tourism and related industries. Its role is
spending by direct and indirect suppliers and employees within the industry.
Governments are investing in national carriers mainly due to this multiplier effect," Mr. Chandrasena makes a case in point during a recent interview with the Business Times.
He says that air transportation as a business is difficult – it gives 5 per cent return on investment (ROI) at best when the cost of capital is 7-10 per cent mainly on account of extreme competition, high risk of fuel cost and most contributions not being directly quantifiable such as tourist arrivals, facilitation of trade and contribution to the economy. "During the last 40 years the best ROI has been 4 per cent," Mr. Chandrasena says.
SriLankan's jet fuel prices are 47 per cent of its cost, aircraft leases are 15 per cent, and airport handling is at 8 per cent. "The financing cost for SriLankan is higher in comparison to some of the regional and Middle Eastern airlines," he says. Mr. Chandrasena says that 85 per cent of their costs aren't controllable on a management perspective. He says that any change in the cost structure can impact on profit. "Nearly 50 per cent of our cost is direct expenditure on jet fuel," he said, adding that jet fuel prices are up by 250 per cent during the past decade.
"The controllable costs are salaries and wages which are at 10 per cent," he says, stressing that for SriLankan, cost cutting isn't an option – it's more generating revenue. "Cost optimization is what our strategy is," he says, adding that cutting fuel costs, introducing technology, and network optimisation are on the cards in this respect.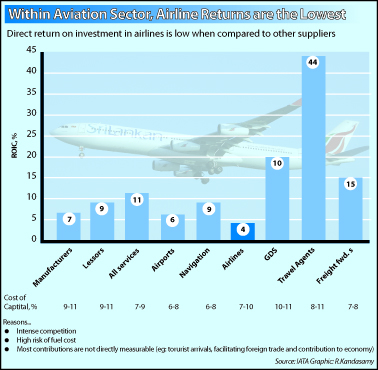 He says that the national carrier's ageing fleet and its uncompetitive product offering accelerated a revenue drop, despite costs such as fuel rose sharply. "We are running an aging fleet. Therefore it consumes more fuel. We need to employ new fuel efficient aircraft.
This is one way of cost optimization," he says. He laments that SriLankan's product has no parity. "The interior, configuration, etc is different. One aircraft differs from the next.
There's no short term fix to that," he says. Stressing that the biggest necessity now is to replace A340 200 as they're ending their airframe life, Mr. Chandrasena said that this is why the airline will source six A330-300s and four A350-900s in the next 10 years. "We chose the A330 and the latest generation A350 XWB aircraft as part of our long-haul fleet renewal. Three more A350s are to be sourced from the leasing market." He says the carrier is awaiting the first A330-300s from October 2014 onwards and will phase out the 18-year-old and fuel inefficient A340s.
The national carrier is also introducing technological advancements.
"Anything of weight such as 70 kilo flight manuals is a cost. We are digitising it in an I-Pad," he says.
In terms of network optimisation, he says there aren't any plans to increase capacity. "This is why we joined OneWorld Alliance, because it gave us an opportunity to expand our network without committing our own aircraft." He adds that SriLankan`s entry into Oneworld has brought in three new destinations to the network – Kochi, Tiruchirappalli and Thiruvananthapuram, all of which are in Southern India and will expand the alliance`s global coverage to 860 destinations in more than 150 countries.
In conclusion, he says that if short term profitability is what one is concerned about, running an airline is the wrong business to be in.