CSE's biggest event was JKH Rs 40 bln rights issue
By Duruthu Edirimuni Chandrasekera
Stocks 2013 roundup
View(s):
The biggest event in Colombo's stock market calendar last year was the Rs 40 billion-rupee worth rights issue by the John Keells Holdings (JKH), which was raised for the group's new integrated development project on its former headquarters property at Slave Island in Colombo, analysts said.
"This was the largest rights issue in the history of the Colombo Stock Exchange (CSE)," an analyst said.

A record amount of debentures amounting to Rs 65 billion was raised last year, compared to Rs 12.5 billion that was raised in 2012 which is a positive for the CSE, he said, adding that since the CSE has allowed primary dealers (those who trade in treasury bills and bonds) to be direct intermediaries in these securities this year is likely to see more debentures.
Deshan Pushparajah, Head of Corporate Finance at Capital Alliance said that last year all large cap stocks showed a high return on their share prices compared to last year. "While the results most firms posted during the year were unstable, (except for companies such as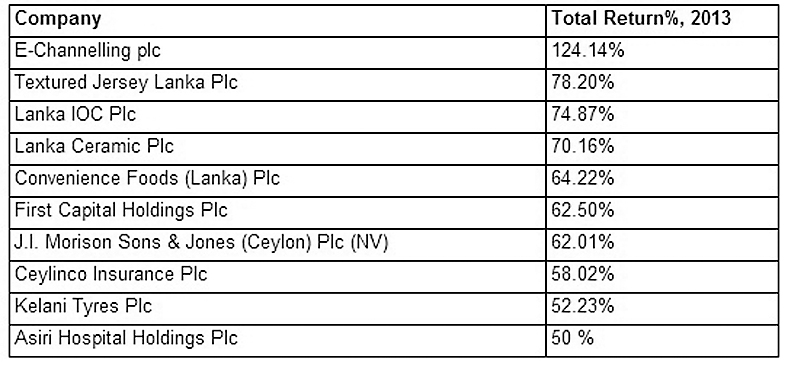 Textured Jersey Lanka, Lanka IOC and Tokyo Cement) most highly capitalised stocks posted a good performance on their share price," he said. The CSE in a statement said that a total of 57 companies have given a total return in excess of 15 per cent year on year for 2013 (with 26 companies giving a return above 30 per cent and 31 companies giving a return between 15 to 30 per cent).
CSE also saw Rs 25.4 billion raised in rights issues against Rs 11.1 billion in 2012.
The CSE reported a 4.78 per cent increase in the All Share Price Index (ASPI) and a 5.79 per-cent yield on the S&P SL20 Index (S&P 20). The ASPI indicated the most notable increase in comparison to previous years, where 2012 and 2011 exhibited negative percentage changes of (-7.1) per cent and (- 8.5) per cent.