Selfish selfies and other ills
View(s):

Quick! What do Barack Obama and Helle Thorning-Schmidt have in common? (Some of you, I can hear, are asking: "Who the Helle is this other person?" Well, dears, she's the Prime Minister of Sweden. And Ms. Thorning-Schmidt is the lady who was part of a photographic threesome that recently became the talk of the town. Or at least the wired parts of the global village.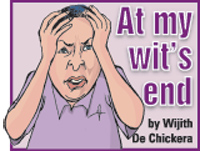 That's when they snapped a 'group selfie' at a world leader's state funeral. Helle was also the thorn in Mrs. Obama's side, evidently. For not long after the much-talked-about selfie went viral, the First Lady of the US insisted that Barack swap seats with her.
Ostensibly to put her formidable self – just see how stern Michelle looks in the latter snaps – between the attractive lady premier and her husband, who is arguably the world's most powerful man.) Now that we have the background picture out of the way, dears, you have your answer to my question: it's the dubious privilege of being in a selfie.
Of course, many Obama-watchers sprang to the defence of the President Of The United States. They argued that POTUS was not in breach of decorum – even though it was a selfie taken at the late great Nelson Mandela's funeral – because it was not a dirge that was being sung during the trio's shenanigans. Rather, the infamous group self-portrait was taken in what was essentially a four-hour-long celebration of Madiba's much celebrated life. And, with context being rather important, these apologists for the US chief executive suggested strongly that criticism of Obama's ostensible lack of dignity had been taken out of context. There was no gainsaying, however, that the three world leaders (the UK's David Cameron was the third part in the unholy trinity) cut pseudo-tragicomic figures. World leaders so absorbed in themselves that they seemingly momentarily forgot etiquette at a globally telecast event to fete and mourn the late great Rolihlahla.
Now while the undignified trio were of some interest to social media, the selfie per se is perhaps of greater interest to social scientists and other word-, trend-, and people-watchers. 'Selfie' is the term for a self-portrait using a hand-held device (be it mobile or camera). It is a trend that is predominant among teenage girls or young women (mostly). One online encyclopaedia traces the first selfie by anyone important enough to be noticed beyond her social circle to the Russian Grand-Duchess Alexandra Nikolaevna (age 13), in 1914. The Oxford English Dictionary (OED) pins the emergence of the word's first use to an Australian incident involving (you guessed it) a teenage girl, in 2002. OED's online version included it as an entry earlier this year, and this bible of wordsmiths named it as 'Word of the Year' for 2013. In the same year, a study of Facebook users postulated that posting selfies is linked to lower levels of social support and intimacy, suggesting that such social media users "risk damaging real-life relationships". Got that, Mr. Obama?
That the funny-peculiar selfie went viral over and above any other image from Mandela's interment service speaks volumes for the state of media in general and social media in particular today. The selfie is today's fast-track to global media popularity, fame, or notoriety. It is usually associated with attempts to position one's product (if it is oneself) or one's personality positively. Beyonce does it, and look where it gets her (an almost satirical Time's 'Person of the Year' faux-nomination). Benedict XVI never did it (and look where it didn't get him), but Francis I famously became the first pope to pose for a selfie (see where it will get him in the end). Barack joins their hallowed ranks (look where it landed him: in hot water with Mrs USA).
There is a local habitation and a name to this airy nothing which occupied so much of the 'civilised' world's attention a fortnight or so ago. We all know how so many (if not most) politicians are like the very paparazzi they claim to despise. All either one need is a photo opportunity to position themselves positively or otherwise; and pop, snap, click; it's done… to please the people and people-watchers. That our local politicos are no stranger to the phenomenon should surprise no one. We don't mean the way in which our statesmen take selfies. (As far as we know, they don't. Or if they do, in some alternate universe, it hasn't made it to the web – yet). Rather, we mean the metaphorical ways they take – or have others take – selfies; and then make them go viral, or watch as they do!
Doubt it? Consider these:
A Very Senior Politico (VSP), wishing to do a Political Pal (PP) a favour, stifles a Popular Socio-Political Satire (PSPS), using the long arm of the censor. The PP thinks he is a Very Eminent Personage (VEP) in his own right. While the VEP is only a PP, the VSP wants to be both a PP himself and Popular With The People (PWTP). Previously, the VSP had exploited to the hilt a Photo Opportunity (PO) to be PWTP by attending the Very Political Play (VPP) that the VEP later asked his PP to stymie. VSP does so.
But he Phone Calls (PCs) the playwright personally to say he had no part in the censoring, and that he – the VSP – will be a PP to the Pathetic and Stricken Playwright (PSP). Now here's the metaphysics of it: the PP complaining to the VSP that he had been lampooned in public is Selfish Selfie (SS) No. 2, drawing attention to himself because he is insecure. SS No. 1 was VSP's attendance of the VPP – if only to prove he is, was, and will be PWTP; no matter what… and SS No. 3 is that PC to the PSP, to prove that VEPs can be PPs too, if only for the PO that it provides to be PWTP!