Letters to the editor
View(s):

D.S. Senanayake College, Iriyagolle and Alles

D.S. Senanayake College, Colombo 7, was the brainchild of the late I.M.R.A. Iriyagolle, Education and Cultural Affairs Minister in the 1965-70 UNP-led government of Prime Minister Dudley Senanayake. Mr. Iriyagolle was the architect and founder of this leading school, which he named after the much respected and admired "Father of the Nation", D.S. Senanayake, whom he had the good fortune to associate with as a young politician at the time.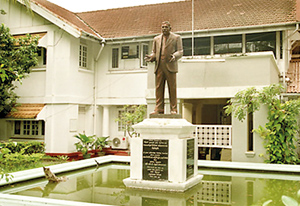 When appointed Minister in 1965, Mr. Iriyagolle planned and implemented far reaching educational programmes and projects, being the visionary that he was. When he realised the competition and the resultant severe congestion emerging in Colombo city at the time, especially as a result of the rush to admit children to popular schools within the city itself, he wanted to set up a new model school for Colombo — in his own words, a school "which could compete with schools of the calibre of Royal, Ananda and Nalanda…."
Being a man in a hurry, he wanted it done immediately and his officials were instructed to find a suitable site in the heart of Colombo.
Of the state lands available, Mr. Iriyagolle himself selected the site at Colombo 7 and with the consent and co-operation of the residents of the areas, he managed to acquire additional lands to provide the required space. The school which came up in no time had several temporary structures too at the time.
Then came the important task of selecting an efficient Principal who could build up the institution according to the standards he visualised. Many were interviewed and shortlisted and the minister himself took over the task of making the final selection. Although many were recommended, Minister Iriyagolle wanted to go through their credentials personally. He told senior ministry officials that he wanted someone young and dynamic, innovative and with an open mind who could develop the school from scratch into another "Royal College". Much to the surprise of many, he selected R.I.T. Alles although there were others more senior.
Mr. Alles was asked to call over at the minister's residence where he was told what the goals were. "Can you take on the challenge?" the Minister asked him and the surprised Mr. Alles replied in the affirmative. The writer, a teacher at Devi Balika Vidyalaya at the time, was privy to this conversation at her father's residence on this important day. To overcome any criticism to Mr. Alles' appointment regarding his lack of seniority and experience, a foreign training was arranged for him.
Mr. Iriyagolle passed away suddenly in early 1973, but before his demise, he was glad that by this time, D.S. Senanayake College had grown in strength and was well on its way to achieve the goals set and that he had made an excellent choice in appointing Mr. Alles.
Mr. Alles, the first principal, made Mr. Iriyagolle's dream come true with the fullest co-operation of an efficient staff and supportive parents and well-wishers, along with the Ministry.
I write this so as to correct some misconceptions and factual errors regarding the initial process of establishment of D.S. Senanayake, College, which appeared in several articles and news items in the media after the recent demise of Mr. Alles.
Pushpamala Iriyagolle Dharmasena, Kandy
Farr from Shaw
This is a response to Richard Boyle's article on Florence Farr published in the Sunday Times Plus section on November 3:
Florence Farr pertly opined
Shaw and Yeats 'half-baked'
With whom she often dined.
Was her taste for them then full slaked
That she left for spicier Oriental coasts
Where the Jaffna man wholesome roasts?
Patrick Jayasuriya, Maharagama
Stasi in Sri Lanka? German resident's encounter with 'Secret Police'
I am a senior citizen of the Federal Republic of Germany. I am married to a Sri Lankan lady and residing in Sri Lanka for nearly ten years. On November 8, 2013, I was in for a big surprise, as two men on a motorbike came to my residence in Kochchikade and told me that they were sent by the Defence Ministry to inquire about my residential status.
One of them produced a card, stating he was a State Intelligence Services Officer and he had been sent to check the identities of my wife and myself as according to him, I had applied for the extension of my residence visa. I became suspicious about the two men, as I possessed a residence visa, which was still valid for half a year and therefore I did not have to apply for any extension yet.
Since newspapers have carried many stories about bogus policemen and CID officers with faked identity cards, my suspicion grew further, as they told my wife in Sinhala, that they were sent by the Ministry of External Affairs. My wife also told me that prior to coming to our residence the two men on a motorbike came to her parents' house and told her sister that they were sent by the Immigration & Emigration Department.
Later they showed us the copies of our marriage certificate and other related documents, which they had obtained from the local Registrar of Marriages. They said there was a discrepancy regarding our address. That was easy to explain, as earlier we lived in a rented house that did not have a proper address as it was newly built and was not registered yet, therefore only the number of the plot was mentioned in the lease agreement. Recently we had moved into another rented house on the same street and I had got from the Grama Niladhari's office a certificate, confirming the new address.
After the two men on a motorbike left, my wife and I decided to find out the identity of these unexpected visitors and the next day I went to the Superintendent of Police in Negombo's office with a written report on the incident and a request to investigate it. Superintendent J.K.H. Liniyanage was kind enough to make an investigation and later he sent me a report, confirming that the two men, who visited my residence, were officers from the District Intelligence Branch of Negombo Division to make a CID and State Intelligence Service's investigation, regarding my visa.
After having lived in Sri Lanka for nearly ten years I wonder why I suddenly became an object of interest to the SIS and CID. Most of the Westerners come to this splendid island to spend the sunset of their lives and they do not expect to be harassed and driven to anxiety by SIS and CID officers without any plausible reason. Moreover, all the necessary information, regarding the visa status of the Western residents, these officers could have obtained from the Emigration & Immigration Department.
It would be appropriate and justifiable to make an investigation only in cases when foreigners are overstaying their visas. According to newspaper reports, Immigration & Emigration Controller Chulananda Perera has stated that there are more than 15,000 visa over-stayers — most of them from India, Pakistan, Bhutan, Bangladesh and Afghanistan. Evidently, the I&ED has a lot to do and therefore it should not harass law-abiding residents with valid unexpired visas, especially while trying to promote such schemes as My Dream Home to attract more retired foreigners to the country.
Such actions of monitoring the guest residents recall the surveillance of its citizens by the notorious omnipresent and omnipotent former Stasi — State Security — in former East Germany. Is this the way to go?
S. Mackensen, Via email