Leafing through best picks
As the year draws to a close, we asked some avid readers which book they most enjoyed reading in 2013, and which one they'd like to receive as a Christmas present. Here's what they had to say
View(s):
Shehan Karunatilaka, author of 'Chinaman':Best: Wave – Sonali Deraniyagala
Enjoy isn't quite the word to describe the experience of reading Wave. People who haven't, think it might be depressing, which it very much is. But in places, it's also strangely uplifting, celebratory and funny even. As a piece of prose it's tenderly crafted, but as a portrayal of suffering and loss, it is magnificent. It tells you that memory is precious, that love never dies, and has you wishing all that's good for its author. I hope she keeps writing.
For Christmas: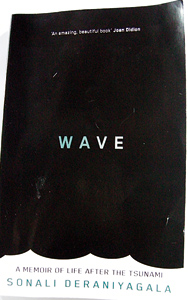 The book I'd most want for Christmas is Sandman: Overture – Neil Gaiman. It's always tricky when a well-loved story gets resurrected, in this case as a prequel. But Gaiman's a writer at the height of his powers and he's yet to disappoint. I get impatient waiting a week for a TV episode, so a new Sandman issue every two months will be a true test. Realistically, it looks like I'll be waiting till 2015 to devour the entire graphic novel in one gulp. But wouldn't it be lovely if Santa had all 6 issues wrapped up for me in a nice box this Christmas? Though it looks like I may have to ask Satan instead.
Sunila Galappati, a former Director of the Galle Literary Festival: Best: The Great War by Joe Sacco
I usually prefer my books with words. But this year I found a book that is all the more powerful for having none in it. Joe Sacco is celebrated for his comics-journalism, through books about conflicts, such as Palestine and Safe Area Gorazde. His latest, The Great War is published just ahead of next year's anniversary: it will be 100 years since the beginning of WW1.
The book is a wordless illustrated panorama that takes us through the events of 1 July 1916, the first day of the Battle of the Somme. The book is a pleated accordion that folds out to reveal a single drawing, in 24 panels, showing what happened on the British side of the battle line that day. It is a book that you have to see on paper, to take in the scale of Sacco's work and of the day he is depicting. The drawings remind me of the jolly round soldiers we saw in comic books when I was a child, except that in this case nearly 20,000 of them die. The author makes no comment. It feels exactly the right choice and strikes me we can't find the words even for a century-old war. In a foreword to the book, Joe Sacco says 'all I could do was show what happened between the general and the grave, and hope that even after a hundred years the bad taste has not been washed from our mouths'.
For Christmas: Americanah by Chimamanda Ngozi Adichie
Have you heard the cliché that older men eventually turn away from reading fiction, opting instead for biography and eventually military history? As a 34-year-old woman I am a little worried I am following this trend before my time. For that reason, I think I will choose a novel next.
 Nalaka Gunawardene, science writer and blogger: Best: To Move the World: JFK's Quest for Peace
Although it lasted only a thousand days, John F Kennedy's presidency was eventful and memorable in many respects. His legacy has inspired an estimated 40,000 books and films. This year, which marked the 50th anniversary of his assassination, I read an exceptional addition to this (still rising) pile.
To Move the World: JFK's Quest for Peace (Random House, 2013), by Columbia University economist Jeffrey Sachs, revisits the extraordinary days from October 1962 to September 1963.
That was JFK's Annus mirabilis (Year of wonders) when he marshalled the power of oratory and political skills to achieve more peaceful relations with the Soviet Union and a dramatic slowdown in the proliferation of nuclear weapons. During that year, which started with momentous '13 days' of the Cuban missile crisis, JFK he gave a series of speeches in which he argued that peace with the Soviet Union was both possible and highly desirable. One delivered to the American University in Washington DC in June 1963 is generally referred to as his Peace Speech. Sachs shows why it was one of the most important foreign policy speeches of the 20th Century – ultimately more consequential than any other by JFK.If Winston Churchill "mobilized the English language and sent it into battle" during World War II, Kennedy used his mastery of the same language to talk the US and Soviet Union down from the brink of a planetary nuclear war.
For Christmas: Madiba A to Z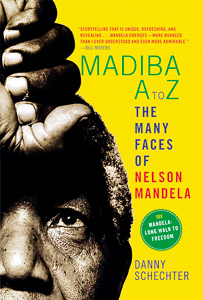 What I'd love to get for Christmas is Madiba A to Z: The Many Faces of Nelson Mandela (Seven Stories Press, 2013) just written by my journalist friend Danny Schechter. We can count on Danny, who has spent 40 years chronicling the story of Mandela and South Africa'sstruggle for freedom and equality, to provide plenty of depth, nuance and analysis.
Jill Macdonald, Principal, The Study:Best: Wave
My answer slightly rephrases the terms of the question: the finest piece of writing I have read this year (the question of enjoyment does not seem apt for this work) is Sonali Deraniyagala's memoir Wave. This beautifully crafted narrative skilfully evokes the sadness inherent in our finite nature, while embracing the intensity of joy in the face of this reality. More specifically, it reminds us that all grief is a celebration of life; the scale of the particular losses chronicled in this case paradoxically making the capacity for remembered joy both immense and – initially – unbearable. But it does something even more profound. It serves, through memory, to bring to life those who have left it – in an experience not unlike and certainly very evocative of that of the Biblical travellers to Emmaus, the writer discovers through her act of remembrance that those who are always and everywhere slipping away from us – our family, our friends, those whom we revere – continue to be transformed and so to be with us in another way, so long as we continue to love and keep their memory alive.
For Christmas: Luke Baldwin's Vow
The book I would like to receive for Christmas is a slim volume called Luke Baldwin's Vow, by Morley Callaghan. I once had the opportunity to read an excerpt from this work, which shares many thematic concerns with one of my very favourite pieces of writing, Tissa Abeysekera's beautiful novella Bringing Tony Home. Both writers, among other achievements, compellingly bring to life Oscar Wilde's famous and exceedingly prescient dictum about people knowing "the price of everything and the value of nothing." In Callaghan's piece a young boy, living with his father's brother after his parents' death, learns to cope with the immensely practical nature of his uncle while safeguarding his own ideals and sensibilities. The final sentence of the excerpt – which I believe is also the concluding line of the novel – has always remained with me, although I have never been able to track down the work, which may indeed be out of print. It read like this "…he vowed to himself fervently that he would always have some money on hand, no matter what became of him, so that he would be able to protect all that was truly valuable from the practical people of this world".
Suresh De Silva, frontman, lyricist and vocalist of Stigmata Best: A Dance with Dragons
I like to think I read a lot, but if truth be told it's mostly when time avails. This year I've read novels by J.V Jones, George R. R. Martin, Neil Gaiman, Glen Iliffe, Michael Crichton, Thomas Harris etc., it's a tad tedious and cruel to ask me to pick one book out of the lot because I appreciate a variety of styles and genres. I am reading three books at the moment. But since you have asked for just one I'll go with A Dance with Dragons by George old boy. Brilliant multiple storylines, sub plots intertwine with plots, memorable and immaculate characterization, suspense, tragedy, triumph, romance, violence, war, politics. Not since Tolkien has a masterful story teller reigned on the throne of adult fantasy. I love his style of writing, he is a poetic genius, there's a superb ebb and flow to his work. It's complex but it's written so well, you connect with it. To me it's like listening to Fates Warning, Blind Guardian, Jethro Tull, Iron Maiden, The Beatles, Nevermore, Dream Theater and Fleshgod Apocalypse back to back. It's an unadulterated mindgasm and I love that it's challenging and so powerful.
For Christmas:
Again you add insult to injury!!! I want a ton of books, thinking about it is depressing. Maybe the new Mo Hayder or the new Dean Koontz. Hell, I would like to own Gaiman's entire Sandman graphic novel series. I've been waiting a long time to read Stephen King's The Dark Tower series, so maybe the first book off that.
Vivimarie Van Der Poorten, poet: Best: Playing pillow politics at MGK
The book I enjoyed reading most this year was Lal Medawattegedera's 'Playing pillow politics at MGK.' It is definitely one of the most original and unusual books in terms of the characters, plot, structure and themes. It is in turn funny and sad, irreverent and tender, deeply political and deeply personal. I particularly like the way it mixes the surreal with the real, the seen with the unseen and the innocent with the insidious. It captures the times we live in, never knowing whether we can trust what meets the eye; at the same time it makes use of the basic human condition to tell its story: our need to be loved, valued, and needed. It is also possibly the most gender sensitive novel by a man that I have read in recent times.
For Christmas: 'The Lowlands'
The book I would most like to receive for Christmas is Jhumpa Lahiri's new novel 'The Lowlands' because I have so enjoyed her previous collections of short stories and also her novel 'Namesake.'
Shyam Selvadurai, author:  Best: 'Questions of Travel'
One of the books I most enjoyed reading was Michele de Kretser's 'Questions of Travel.' The novel follows the lives of two very different people. Laura Fraser travels through Europe for many years before returning to Sydney to work for a company that does travel guides. Ravi De Mel had a pleasant life in Sri Lanka until his wife, an NGO worker who knows too much, and his son are murdered. Ravi is forced to flee to Australia where he seeks asylum. Laura's life though very middle class yet seems so enormously privileged when compared to Ravi who works in an old age home to make ends meet while he waits for his hearing.
De Kretser uses this contrast to say many trenchant things about Australia and its treatment of immigrants and refugees. What de Kretser is really good at is capturing the details of life and imbuing them with both meaning and urgency and I never lost interest in the stories of these two protagonists as well as the incredibly diverse cast of characters we encounter in the pages of this novel. It won Australia's highest literary prize, The Miles Franklin Award, a well-deserved honour.
For Christmas: Any book by Borges
What book I would like in my stocking: I am ashamed to admit that among the serious lacks in my reading is the fact that I have never read anything by the Argentine writer Borges. So anything by him would be welcome.
Arun Welandawe-Prematilleke, Assoc. Artistic Director of Mind Adventures: Best: Freedom
It feels like cheating to pick a novel not published this year, but my honest answer is 'Freedom' by Jonathan Franzen, which I finished sometime at the beginning of 2013. There is a great sense of empathy in Franzen's writing that I find beguiling. 'Freedom' is so personal and so honest, that I often find myself confusing details about Patty and Walter, the novel's protagonists, with my own friends' lives. He may be the best writer I've read at capturing the messiness and stickiness of modern relationships.
For Christmas: The Wes Anderson Collection.
As for the book I'd most like for Christmas, I will do terrible things to people I love if it got me a copy of Matt Zoller Seitz's 'The Wes Anderson Collection'. It's a coffee table book, I know– but Seitz is such an astute critic of cinema, and his knowledge and intimacy with Anderson's work is remarkable. Also, it looks very pretty.