Helped by WNL's tsunami relief fund
View(s):

Nine long years have gone by and the world and the people around them have moved on. For many like 24-year-old W.H. Ishani Damayanthi, already a mother herself of a five-year-old girl, the memories are not only fresh but also raw. Pretty Ishani is still battling a gnawing emptiness within her, for both her mother and father were victims of the devastating tsunami that overwhelmed the southern and eastern coastal belts of the country, while she herself is a survivor.

Even though her longing for the "touch of a vanished hand and the sound of a voice that is still" (as the poet said) remains, a glimmer in the darkness had been the monthly Rs. 2,500 that went into her savings book like a prayer from a newspaper company in Colombo.
It was not only in the case of Ishani, then a tender 15 years old (when the tsunami struck on December 26, 2004) that Wijeya Newspapers Ltd. (WNL), went beyond its mandate of informing its readers, moulding public opinion and critiquing the systems and powers-that-be whenever and wherever they worked against national interest, but made a conscious decision to step from behind the headlines to extend a helping hand.

Soon after the tsunami, WNL launched the Tsunami Relief Fund (TRF) with an initial contribution of Rs. 1 million, while its sister company, Wijeya Graphics Ltd., channelled Rs. 500,000 and the staff of WNL gave at least a day's salary, collecting Rs. 315,000.  Many associations and groups, both here and abroad, also contributed to the TRF with Rs. 136,000 being sent from the Melsiripura Traders' Association and children emptying their piggy banks for those affected by the tsunami.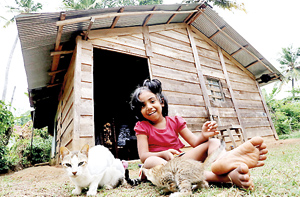 With the TRF swelling to more than Rs. 3 million, WNL then launched the Educational Scholarship Fund for 10 orphaned children, including Ishani, with Rs. 2,500 being sent to their savings books each and every month until they were 18.
The other beneficiaries are A.H.A. Nasar, A.H. Yaseer, R. Varman and R. Monica from Ampara; M.P. Tharindu Asanka from Nakulugamuwa; S.H. Namal and L.M. Ashane Madumal from Matara; and M.N. Priyantha Sanjeewa and E.K. Chathurangani from Galle.
WNL also constructed a building for the destroyed library of Ahangama's Rohana Vidyalaya and donated emergency medicines as well as two large refrigerators for the storage of medication.
The monies sent by WNL helped tremendously, smiles Ishani on Tuesday (December 18) seated at a table with a large framed photograph of her as a very young bride beside her husband. We are in a plank extension verandah to her humble home. Having returned with daughter Lasadhini Lekha from the Montessori with the little one adamant on playing with a stray kitten, Ishani's eyes well up with tears as she looks at another photograph near her elbow.
The youngest and beloved daughter of W.H. Sirisena who was a labourer at the Weligama Pradeshiya Sabha and S.H. Chandrawathie, 2004 was the year that Ishani sat for her Ordinary Level (OL) examination. She was very good at Udarata Natum, she murmurs, adding that her parents had high hopes of their youngest of six offspring achieving something in her life.
It was not to be……..for fate, karma, destiny or whatever one may call it, beckoned. At Weligama, they were not that close to the sea, but her father's relatives who were living in the Matara kotuwa (fort) invited them to a party on Christmas Day.
Relieved that the OLs were over, father, mother and daughter went to Matara. Having taken part in the festivities, they were preparing to return home on the fateful morning of December 26, 2004, when the waters came.
"People were running past us shouting and screaming and then the waters came," says Ishani, adding that pagana ganata wage wathura ave. They ran too with the crowds but the sea was on one side and the river on the other and the waters were high now. It was then that she got separated from her parents. She nearly drowned thrice, but someone pulled her up by her hair and dumped her on a roof.
The rest is agonising history. Her mother's body was found, but not her father's. For about three months she was in a daze unable to deal with the crushing blow that had become her lot.
"Kampanaya (shock)," she admits sadly. It was older brother, W.H. Janaka Nishantha, who looked after her thereafter. "He did a lot," she says, but no one could fill the void that her mother's death had left. I was holding Amma's hand when the waves separated us, she says, as tearless sighs wrack her slender body, recalling how she would snuggle up to her mother every night.
The teachers of her school did urge her to do her Advanced Level, but there was no energy to attempt anything. She had lost the zest for life. Earlier where her Amma and Thaththa had been her guiding force, although her brother tried, there was a deep emptiness and lethargy.
It was in 2006 that a marriage proposal came from Dinesh Amarasinghe from her home area of Hettiveediya in Weligama. The wedding followed in January 2007 and their daughter was born on December 10, 2008. Now with her husband working in Colombo as a driver attached to the Ports and Highways Ministry and able to visit home once a week, it is a lonely life for this young mother and daughter, although surrounded by relatives and in-laws.
With her daughter going into Grade 1 next year, Ishani's fervent hope is to educate her well even though she herself was not able to achieve her dreams after the deaths of her parents and the turbulence and sorrow in her life. The Sunday Times leaves them in their humble abode with the thought that they would be much happier if Ishani could join her husband in Colombo away from scenes and sights that take her back to her childhood in the security of her parents' care, which she has no more.
Now she lives for her precious daughter, she says, recalling how she longed to be ordained soon after her parents' death. "I can't sleep, I miss my mother very much," is Ishani's plaintive cry.
Any generous donor who wishes to help Ishani and her family may send their contributions to Account No. 8112025349 at the Commercial Bank, Weligama, in the name of W. Ishani Damayanthi.