Bringing back the good old flavour of Lankan fruit
By Ara Rasool
Achcharu Kade, a tropical fruit delicacy stall at the Good Market aims to spread the health benefits of local food and provide a sustainable income to rural women
View(s):
Remember your mum telling you over and over again that fruit is good for you? It was not just her way to get you to clean up your plate, fruits we all know are wonderful sources of fibre, vitamins, minerals and phytochemicals. The Achcharu Kade, a tropical fruit delicacy stall at The Good Market – Colombo, has just this mission -to introduce to everyone the health benefits of Sri Lankan fruit with all its exotic flavours while encouraging the production and consumption of organic garden grown fruit.
Natlie Raymond, a broadcast journalist by profession and founder of Achcharu Kade considers Sri Lanka as the Garden of Eden. Spurred by her love for Achcharu, she wants to re-introduce the diversity of Sri Lankan fruit and its flavours to everyone.
The Achcharu Kade provides a sustainable income to women-headed low income families and encourages community networking. Just over a month since it was founded, the Achcharu Kade acts as an invisible link connecting the hard working women who grow these fruits to tourists who taste these tropical fruit delicacies for the first time.
Fruits like Mango, Wood apple and Grape fruit come from Chilaw and Puttalam sourced from coconut estates with fruit trees while the smaller fruit are sourced from Colombo itself. The fruits are difficult to source, spoil and smash easily, so it takes a lot of hard work to ensure quality.
According to Natlie the business does not bring in a huge profit margin since she sells each portion for just Rs. 150. The Achcharu is served in a microwavable food grade container. With just two girls to help with the chopping of fruit, Natlie deals with the mixing of fruit and spices by herself.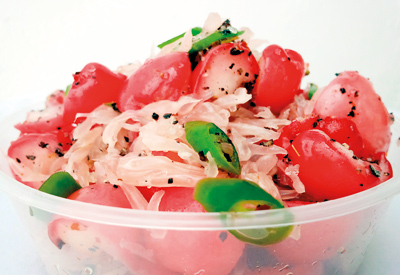 The Achcharu Kade's facebook page has gained over 12,500 likes in the space of one month and it had sold out nearly 800 kg of fruit in the past week. This proves that people keep coming back for the old tastes of Sri Lanka. Dishes vary in taste and colour; JamJam is made from Jambu and Jambola another dish is the fruit salad with a special sauce, shredded mango with green chili sauce, whilst the most fast moving dish is the Sri Lankan sandwich made out of Thambapu Paan (Baked Bread) with Polos (Green Jak fruit) and Coconut Sambol. There is a new variation every week which keeps endless feedback coming in.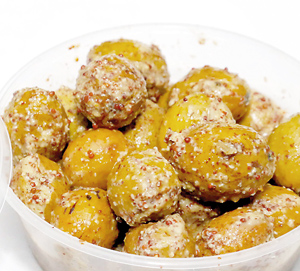 Achcharu Kade is a brand of a bigger concept called Box it. Natlie's future plan is to box dinners with a full course healthy meal. It's time that Sri Lankans break the norm of a bun for breakfast and go back to savouring a bowl of kadala, she believes. Sri Lanka has a unique food culture and she is all for re-introducing old recipes and bringing out the goodness of Lankan food to society.