A Christmas baby steals the show
By Dr. Carmeline Fernando
View(s):
"Do you think Uncle Joe will have the concert this year?" my sister asked rather worriedly. She was voicing the worry in all of us. This was in the early sixties and we had what nowadays is called a play group consisting of about 15 children between the ages of 7 to 10. Every year our neighbour Uncle Joe had organised a Christmas concert for all the kids, but this year would be different. Uncle Joe's family was expecting a birth of their own – their third child, and we were worried that they wouldn't have time to hold the concert this year. A few days later came the news that we were wanted for rehearsals, so with a joyful "Hurrah!" off we went to Uncle Joe's.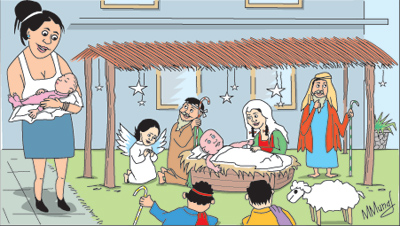 The rehearsals went off without a problem – we were all veterans now, having taken part over the last three years. A few days before the concert was due to be held we got the news that Aunt Collette had been taken to hospital to have the baby. Another few days of worry went by wondering whether the concert would be cancelled but no – Uncle Joe gave us the good news that it was still on.
We all gathered at Uncle Joe's on the appointed day well before the concert was to start. The highlight of the concert was a nativity play, but there were many other items on the programme. The first was to be a dance by three of the girls, and the next was a historical play depicting the war between King Dutugemunu and King Elara. The girls were getting ready for the dance, but one of them, Shiranthi, couldn't find the trousers she was supposed to wear as part of her costume. It was pandemonium as she went running around rummaging everywhere.
Finally we found the trousers – my brother who was playing the role of King Dutugemunu had appropriated them and was already wearing them in readiness for the next item! A tussle ensued with Shiranthi being the obvious victor. She had a multitude of advantages on her side – she was Uncle Joe's daughter and was on home ground; her item was the first on the programme; she was older and bigger than my brother and most of all she was a female and as expected had the last word! So there was King Dutugemunu having lost the war even before it started, even before King Elara came on the scene. Losing to a girl was the ultimate insult, and he sat huddled on a chair trying to cover himself as best as he could with the only garment he had left on him – a red satin cape! The actual play was an anticlimax as we had witnessed a better war before the concert.
The only adult to take part in this concert was one of Uncle Joe's cousins, who did a sort of dance cum balancing act with three lighted candles placed in saucers. He balanced one candle on his forehead and the other two in his hands and with one hand did an intricate movement taking the candle under his arm and then above his head in a figure of eight. This was the cue for a burst of applause from the audience, but unfortunately the applause turned out to be for a completely different reason. With all the contortions he was doing, the bra like garment he was wearing on his upper torso slid down and hung around his waist, much to the delight of the audience who gave him the applause he expected, but interspersed with whistles and catcalls!
The Nativity play went off alright except for a few hitches – one of the shepherds came on stage trailing a blanket and the shepherd behind him stepped on it, tripped and fell. An angel came skipping sprightly on to the stage, and as the floor was well polished, slipped and slid halfway across the stage landing on top of the sleeping shepherds. When she got up, there was a bright red polish stain on her pristine white robe, which started the shepherds sniggering and giggling. Angel Gabriel had trouble keeping his wings on, and they kept falling off which resulted in him going off stage intermittently to get them adjusted. The songs which were tunefully sung for once were to the accompaniment of a mouth organ, which was the only instrument in our orchestra. Uncle Joe was proud of us. Looking back now after all these years I realise what a lot of trouble he had taken over this play. The lyrics of these songs were all composed by him, and I don't know whether the music was too.
Then came Santa Claus – a bachelor relative of Uncle Joe's who spent his money on presents for all of us. This was much appreciated as these were hard times and most Christmases we didn't get presents even from our parents. After the presents came refreshments provided by all the neighbours, and then Uncle Joe's new born made an appearance much to our delight. Most of us had never seen a newborn and marvelled at the tiny fingers and toes, the smooth velvety skin and the beautiful curly hair. She was sleeping peacefully when she was shown to us, and our friend Larry, much to our amusement asked Aunt Colette, "How many days will it take for her to open her eyes?" He had thought that like kittens, babies too would take several days!
To our romantically religious little minds it was easy to imagine that this was Baby Jesus. The whole concert, Santa Claus, the presents and refreshments all took second place that year to the beautiful little baby, and as little as we were, the meaning of Christmas was understood by us for the first time – as we wonderingly looked at and gingerly touched this Christmas baby.